tales from the trenches
July 12, 2017
Taco Joints to Video Games to Healthcare: Sterling Lanier's Journey to Startup Success
"The things that I was trying the hardest at failed, and the accidental one worked out."
At MATTER's recent Tales from the Trenches, Sterling Lanier, cofounder and CEO of Tonic Health, sat down with Outcome Health CEO Rishi Shah to reflect on his journey through multiple companies that ultimately led him to Tonic Health, the medical data collection company. Tales from the Trenches is produced with Outcome Health and Pritzker Group Venture Capital. Read our summary or watch highlights from the event.
Sterling's first venture was a burrito joint at Duke University that he founded a few weeks before graduation. The restaurant is still a popular spot at Duke today. While there were bumps along the way, "it was a really good lesson in scrappiness," Sterling said.
Because he had little money and few resources, Sterling had to scrape together what he could in order to make the burrito joint work. To design and build its brick and mortar storefront, Sterling solicited the skills of architecture students and day laborers, offering free food in return. This experience in making ends meet without an overarching strategy was a valuable precursor to Sterling's time at Tonic, as he was forced to figure out a way to make ends in an extremely resource-constrained environment.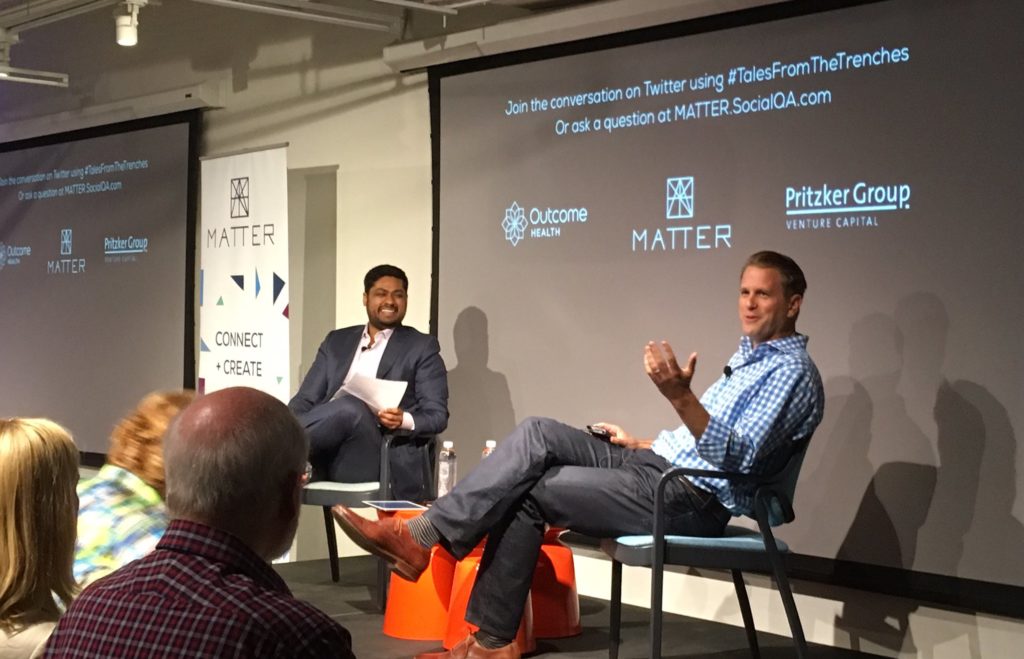 In the 20 years since founding his humble first venture, Sterling has started more than half a dozen businesses, ranging from a point-of-purchase display business, to a prenatal pill company, to a firm that ran corporate teambuilding events. When Rishi asked Sterling for general insights gleaned from founding so many different kinds of businesses, he suggested that all of entrepreneurship is sales.
"Entrepreneurship is 100% about selling," he said. Whether selling his products, ideas, or himself, Sterling quickly learned the importance of persuasion – whether he was selling to clients, partners, employees, or customers.
Sterling also stressed the importance of filling an existing market need: "You don't build an amazingly eloquent solution for a problem that doesn't exist.". That's a challenge with which healthcare startups consistently struggle. "A lot of them have amazingly gorgeous products," he said, "but there is no real burning need."
While Tonic Health has grown into a leader in medical data collection, Sterling had no experience in the field prior to Tonic: most of his previous experience was in the video game industry. "We didn't have any experience in healthcare and, ironically, that turned into our greatest strength," Sterling said.
Sterling had no preconceptions of the industry and was able to look at it with a fresh perspective, which allowed him to come up with insightful and innovative solutions that solved truly pressing problems.
Tonic Health began with a simple observation: patients at doctor's offices everywhere spend a lot of time filling out dull, pen-and-paper medical surveys and forms on clipboards. It's a hassle. And Sterling saw an opportunity. He used lessons learned from his time in gaming to develop crisp, user-friendly menu screens and incorporated gamification principles to encourage patients to finish filling out their medical forms.

Tonic is now the leading electronic patient data collection and payments platform among large enterprise health systems, payers, and pharmaceutical companies. Importantly, Tonic is Apple's exclusive partner for patient data collection globally.
Sterling has applied lessons from the gaming and entertainment world to build Tonic into the industry standard for automating patient data collection at every point along the care journey, which taught him the importance of learning from your customers.
"Out of pure necessity, we had to be customer centric," Sterling said. He relies on feedback and input from his customers, tweaking what data his platform requested, the user interface, and more, to ensure Tonic provides something its end-users and customers actually need.
Sterling's focus on solving a true industry problem, incorporating customer feedback, and learning how to sell his ideas as much as his product has made Tonic Health the force it is today.