Now launched: The PF Innovation Challenge
A special acknowledgment to the selected PF Perspectives Project participants who will receive $500 cash prizes and the opportunity to collaborate with PF innovators during the PF Innovation Challenge: Beatrice, Cyril-Patrick, Ed, Maryluz and Max. Guided by the insight of the PF community, MATTER & Three Lakes Foundation have relaunched the 2020 PF Innovation Challenge. Learn more and see the PF Perspectives Library on the challenge page.
Take me there
Submit a short, simple video or written statement with your perspective on the most needed innovations for living with, or caring for someone who lives with, PF today.
Submit a 1-2 minute video (nothing fancy!) or a 250-word statement via the "SUBMIT NOW" button
Each submission triggers a $10 donation to Pulmonary Fibrosis Foundation and five winning submissions will be awarded $500 prizes
Your perspective will help healthcare innovators understand the most pressing challenges for PF and develop the solutions needed to solve those challenges.
Learn more below!
---
In these uncertain times, we know that living with a respiratory illness is more complicated than ever — and until every person can breathe freely, we refuse to sit still.
Three Lakes Foundation was created by a family tragically affected by pulmonary fibrosis (PF). Driven by their own frustrations with misdiagnoses, lack of information, limited treatment options and challenges with oxygen access, they built an organization focused on driving awareness, accelerating therapies and improving care for PF.
To help solve these problems even faster, Three Lakes Foundation recently partnered with MATTER, a hub for healthcare innovation and entrepreneurship, to help find innovators with new ideas and solutions for PF — and change the experience for patients, their caregivers and healthcare providers.
To find the right solutions, we want to learn more about what your daily experience is like:
PATIENTS | CAREGIVERS | FAMILIES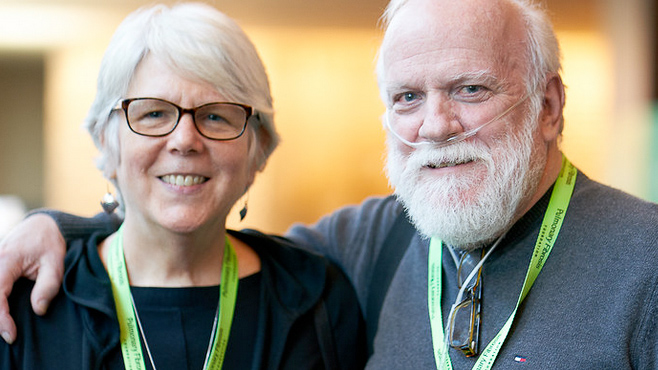 Photo courtesy of Pulmonary Fibrosis Foundation
What is the most pressing issue facing people living with PF, or caregivers supporting people with PF, and how are you managing this challenge?

What type of improvement would make the biggest change? (examples: diagnosis, treatment, oxygen access/therapy)
HEALTHCARE PROVIDERS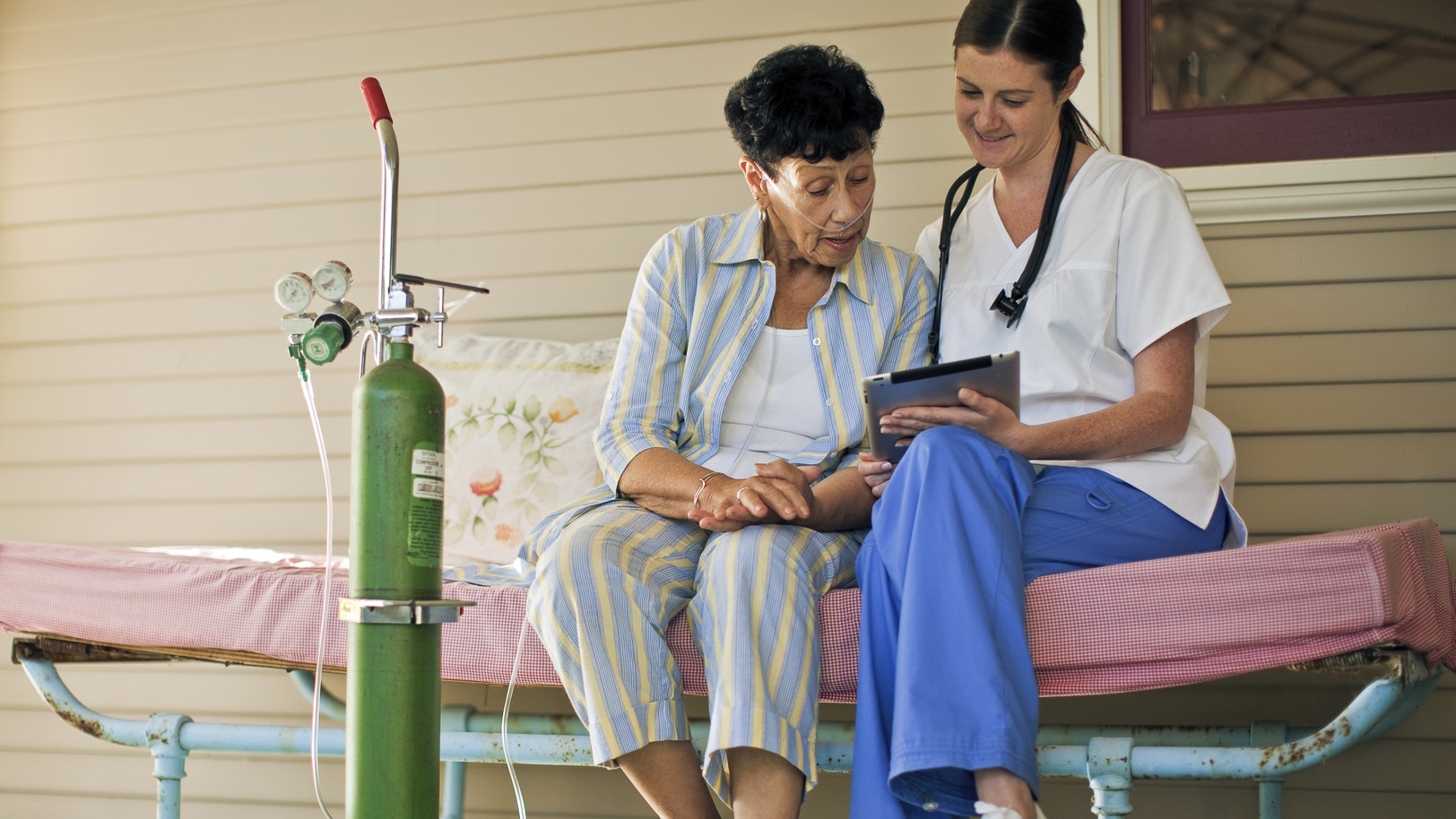 What are your barriers to diagnosing and providing optimal care? How are you addressing those barriers now?

What type of improvement would make the biggest change? (examples: diagnosis, treatment, oxygen access/therapy)
Share — and let your voice be heard
Create an account through the Submittable platform (access below) and submit a 1-2 minute video or 250-word statement using your first name, a short background about your connection to the PF community (e.g., I am a patient living with PF, I was diagnosed in June of 2018; I am the widow of a patient, I am a family member /caregiver, I am a respiratory nurse, etc.) and your perspective on the most needed innovations for living with, or caring for someone who lives with, PF today.
Questions about how to share your perspective?
Benefits

For every submission, Three Lakes Foundation will donate $10 to the Pulmonary Fibrosis Foundation, with a maximum donation of $10,000.
Five (5) $500 prizes will be awarded to the top submissions.
Additionally, selected participants may be invited to join MATTER and Three Lakes Foundation on the innovation journey to further share their perspectives with innovators through the following activities:
Participate in a virtual information session to inform the entrepreneurial community about challenges of living with PF
Meet virtually with selected innovators to help provide feedback and a firsthand perspective around their solutions
Participate in the PF Innovation Forum in November, an event series that brings together members from across the PF community to share stories, hear an update on innovations in the space and watch innovators pitch their solution ideas
Where do these testimonials go?
The power of your story has the potential to influence the healthcare ecosystem, lawmakers, academics, researchers and advocates alike.
These testimonials will be shared on the website for the PF Innovation Challenge: a global contest that asks innovators to develop solutions to address the needs of the PF community. Our hope is that your stories will serve as a catalyst and an inspiration for innovators entering the challenge, which will launch in late summer.
Following the challenge, the selected testimonials will become part of the Three Lakes Foundation PF Perspectives Library — an ongoing compilation of patient, caregiver and provider stories — that is used to inform audiences about the prevalence and experience of people affected by this disease.
---
How can my organization support this project?
We are looking to collaborate with companies across the respiratory health community: health systems, payers, pharma/biotech/device, researchers and advocacy groups to help guide the paths of our innovators. Specifically, we are hoping to identify people who can participate in one or more of the following ways:
review innovation challenge submissions
co-host a virtual roadshow event
participate in sessions during our incubator
serve as a judge in evaluating pitches
financial sponsorship
Interested in joining us? Contact pfinnovation@matter.health
About pulmonary fibrosis
Pulmonary fibrosis (PF) is a family of related lung diseases that are characterized by scarring in lung tissue. Over time, the scarring can make it difficult for oxygen to get into the blood. More than 200,000 Americans are living with PF — many of whom depend on therapeutic, supplemental oxygen around the clock. PF symptoms often mimic other, more common diseases, making it very difficult to diagnose.
About Three Lakes Foundation
Three Lakes Foundation (TLF) is a nonprofit organization dedicated to increasing awareness of pulmonary fibrosis, improving care for affected individuals and accelerating the development of promising new technologies and treatments. Through strategic partnerships and impact funding, TLF aims to improve time to diagnosis and ensure every patient has access to treatments that preserve health and quality of life until a cure can be realized. For more information, please visit Threelakesfoundation.org.
About MATTER
At MATTER, we believe collaboration is the best way to improve healthcare. The MATTER collaborative includes more than 200 cutting-edge startups from around the world, working together with dozens of hospitals and health systems, universities and industry-leading companies to build the future of healthcare. Together we are accelerating innovation, advancing care and improving lives. For more information, visit matter.health and follow @MATTERhealth.
About Pulmonary Fibrosis Foundation
The Pulmonary Fibrosis Foundation mobilizes people and resources to provide access to high quality care and leads research for a cure so people with pulmonary fibrosis will live longer, healthier lives. The PFF collaborates with physicians, organizations, patients and caregivers worldwide. The Pulmonary Fibrosis Foundation has a three-star rating from Charity Navigator and is a Better Business Bureau accredited charity. For more information, visit pulmonaryfibrosis.org or call 844.TalkPFF (844.825.5733) or 312.587.9272 from outside of the U.S.