Background
Diabetes (Type 1 and 2) is prevalent and costly to the healthcare system. The life-long condition has negative impacts on diagnosed individuals, families, employers and providers.
Diabetes is widespread
Diabetes is a metabolic disorder that affects 10 percent of the US population, approximately 34 million with 90 percent of those being Type 2. The rate of diabetes is trending in the wrong direction – 4.7 percent in 1980 to over 8 percent today. One-third of Americans are now pre-diabetic.
Diabetes is disproportionate
It is a multi-system disease that disproportionately affects Black, Asian and Hispanic people. Not only are there disproportionate rates of diabetes within these populations there are poorer health outcomes, too.
In 2018, non-Hispanic Black people were twice as likely as non-Hispanic whites to die from diabetes.
Black adults are 60 percent more likely than non-Hispanic white adults to be diagnosed with diabetes by a physician.
Asian Americans are 40 percent more likely to be diagnosed with diabetes than non-Hispanic whites.
Hispanic adults are 70 percent more likely than non-Hispanic white adults to be diagnosed with diabetes by a physician.
Diabetes has many contributing factors
Barriers such as socioeconomic status, physical environments and neighborhoods, food environments, healthcare access and broader social contexts all influence health outcomes including those with diabetes. People with diabetes or pre-diabetes have many contributing factors that impact their health, and whole-person care considers these various environmental influences as part of a diabetes management approach.
Benefits of applying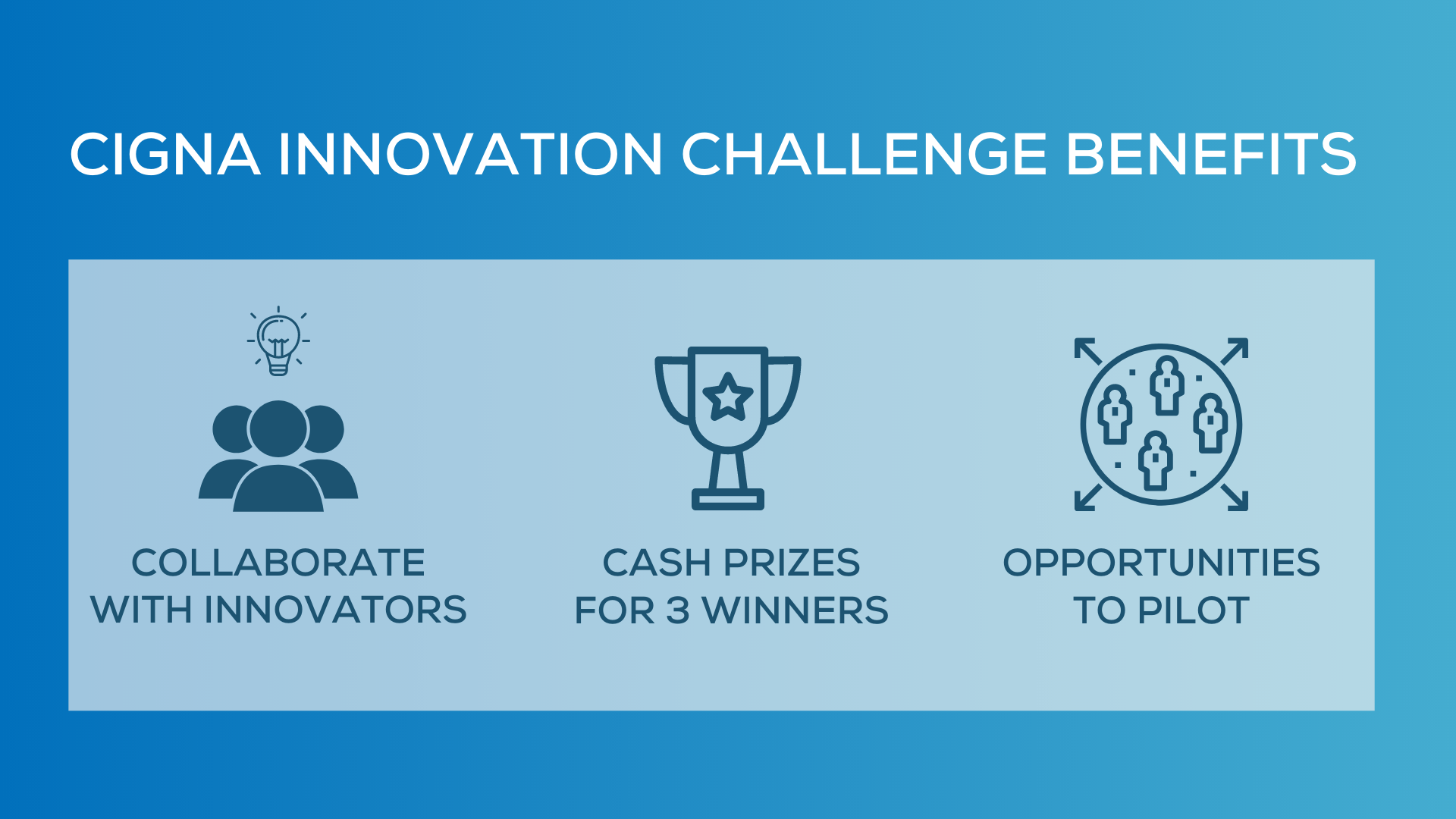 Partnering with a global company such as Cigna has many potential benefits including access to passionate thought leaders, funding and big data. Benefits of partnering in Cigna's challenge include:
180 million customer and patient relationships in more than 30 countries and jurisdictions
67,000+ contracted pharmacies in our networks representing more than 99 percent of all U.S. pharmacies
700+ Accountable Care programs providing better care, improved affordability and a better experience for customers and health care providers
In this program:
Eight to 12 semi-finalists will participate in an incubator that includes collaboration with key stakeholders at Cigna, a robust curriculum developed by MATTER and mentorship connections
Three to five finalists will participate in an accelerator program aimed at outlining a pilot opportunity with Cigna
The finalists will benefit from dedicated mentorship and curriculum developed by MATTER
Three teams will receive a $10,000 award
We look forward to learning and collaborating with you.
Submission criteria
Individuals and teams from across the innovation ecosystem — from existing startups, university researchers, students, incubators or accelerators, as well as other industry innovators — are encouraged to apply. The challenge is open to solutions of all stages, from early stage ideas and university-based concepts to marketed solutions.
Submissions will be evaluated with the following criteria in mind:
Momentum, Traction & Expertise
Market Opportunity
The Problem and Solution
Team & Location
Relationships
Submission process
Submit an application by September 12, 2021 @ 11:59pm CT. Eight to twelve finalists will be notified via the email indicated in their application by September 10, 2020. See our Frequently Asked Questions for more info. For a full set of eligibility criteria, please see our Terms & Conditions and Privacy Policy. Questions? Please contact CignaInnovation@matter.health
Challenge timeline
August 2, 2021: Applications open
September 12, 2021: Applications close (extended deadline)
September 15, 2021: Semi-finalists notified
September 20–October 15, 2021: Incubator
October 21, 2021: Semi-finalist pitch day
October 25, 2021: Finalists selected
November 1–December 10: Accelerator
December 15, 2021: Finalist presentation day
About Cigna
Cigna Corporation is a global health service company dedicated to improving the health, well-being and peace of mind of those we serve. Cigna delivers choice, predictability, affordability and access to quality care through integrated capabilities and connected, personalized solutions that advance whole person health. All products and services are provided exclusively by or through operating subsidiaries of Cigna Corporation, including Cigna Health and Life Insurance Company, Connecticut General Life Insurance Company, Evernorth companies or their affiliates and Express Scripts companies or their affiliates. Such products and services include an integrated suite of health services, such as medical, dental, behavioral health, pharmacy, vision, supplemental benefits and other related products.
Cigna maintains sales capability in over 30 countries and jurisdictions, and has approximately 190 million customer relationships around the world. To learn more about Cigna®, including links to follow us on Facebook or Twitter, visit www.cigna.com.
About MATTER
At MATTER, we believe collaboration is the best way to improve healthcare. The MATTER collaborative includes more than 200 cutting-edge startups from around the world, working together with dozens of hospitals and health systems, universities and industry-leading companies to build the future of healthcare. Together we are accelerating innovation, advancing care and improving lives. For more information, visit matter.health and follow @MATTERhealth.