Challenge statement
How can we leverage technology-enabled innovation to empower human connections among older adults to help reduce social isolation or loneliness?
Solutions can address one or both of the following tracks:
1. Meaningful connectedness: Innovations that leverage the life experience of older adults to reduce isolation while providing the opportunity to contribute with meaning and purpose
2. Intergenerational relationships: Innovations that enable relationships that span across generations into older adults' networks to help mitigate loneliness
Background
Despite slowing population growth, America's aging population is growing rapidly; it's estimated that nearly one in four Americans will be age 65 or older by 2060, according to the U.S. Census Bureau. However, the speed with which the population is aging may outpace the ability of today's healthcare system to meet their evolving needs. Moreover, COVID-19 has fundamentally changed the way in which people can maintain social connections and interactions.

While many of the driving causes of social isolation are structural, we encounter loneliness as individuals. This can be experienced as a lack of companionship, an inability to participate in social roles and activities or obstacles to receiving the informational or instrumental support we need to live well. Older adults are at higher risk for social isolation and loneliness due to ageism and to changes in their social networks and health status. In addition, the onset of disabling chronic conditions, including sensory loss and mobility limitations, often makes it even more difficult for older individuals to sustain relationships.

Fortunately, the rise of new technologies can affect behaviors that are key predictors of longevity and graceful aging, including having a sense of purpose and maintaining social connections.

You can learn more about the target population for this accelerator in our older adult profiles, and you can read more about how each of our two tracks can contribute to reducing social isolation and loneliness in older adults below.

Creating intergenerational relationships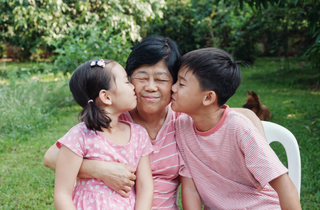 Intergenerational bonds are a unique and critically important set of social connections that have powerful effects on families and communities, as well as on both older and younger individuals. Studies show that meaningful intergenerational programming, which brings to light the strengths of both generations, may reduce social isolation or loneliness and enhance the physical and mental wellbeing of older adults.

Older and younger people may come together for a variety of reasons; they could help each other learn a new subject or skill or pursue a common, constructive passion together. These kinds of shared experiences are enriching, open new friendships, add social connections and reduce feelings of loneliness.
Meaningful connectedness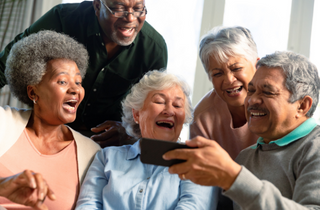 Older adults represent a fount of social capital that too often remains underutilized and underappreciated. Older people volunteer at high rates and make a wide range of contributions to their families and communities. According to a recent AARP study, people age 50 and older contributed $745 billion worth of unpaid services, including volunteering and caregiving, affecting broad societal benefits. In many cases, their service spans over decades, can be part of their civic or religious traditions and is an important element of a rich and meaningful life.

Additional research from a study published in The Gerontologist suggests that maintaining meaningful engagement and having a stronger sense of purpose in life reduces feelings of loneliness and improves quality of life in older adults. Further, this type of purposeful, generative activity helps to combat ageist stereotypes and strengthens the social fabric between all of us.

You can learn more about promoting social and intergenerational connectedness here.
Benefits of participation
This eight-week, cohort-based accelerator will provide participants with access to mentorship, exclusive resources and interactive curriculum from subject matter experts to build their solutions and refine their value propositions. One winning solution will receive a $20,000 cash award, and up to three finalists will receive a $10,000 cash award.
Accelerator participants should expect to:
Engage with other cutting-edge startups
Network with peers and leading influencers
Gain exposure to the RRF Foundation for Aging and MATTER communities
Validate their solutions and refine their value propositions
Pitch to potential investors, partners and clients at the final demo day
Dedicate three to five hours per week to accelerator assignments and activities, such as cohort events, workshops, mentoring sessions and weekly progress check-ins
Graduate with actionable next steps to further advance their solutions over the subsequent six months
Receive a free, six-month MATTER membership
Timeline
March 23: Applications open
May 1: Applications close
May 17: Cohort announced
May 23–July 15: Accelerator
July 19: Final Demo Day
Who should apply?
We're seeking entrepreneurs who are developing a technology to improve social and intergenerational connectedness amongst older adults. This global call for solutions is open to individuals and teams from across the innovation ecosystem — from university researchers, students and entrepreneurs to existing startups of all stages. Solutions can range from early-stage concepts to marketed solutions. Preference will be given to underrepresented entrepreneurs of color.

See the Accelerating Innovation in Aging FAQs for more information.
Selection criteria
Submissions will be evaluated with the following criteria in mind:
Ability to clearly articulate the challenge statement addressed in the accelerator description
Quality, feasibility and scale of proposed solution or technology
Differentiation of solution within the competitive landscape
Capability of participant/team to develop and execute solution
Ability of the solution to improve social and/or intergenerational connectedness for older adults
Submission process
Applications will be open from March 23, 2022, until April 29, 2022, at 11:59pm CT. By May 17, MATTER will select and notify up to 10 teams to participate in the accelerator from May 23–July 15. Each participant will give a final presentation at the final demo day on July 19.
See the full Terms and Conditions.
Thank you to our community partner
How can I support this program?
To advance innovation in aging, we need a variety of industry stakeholders to collaborate and guide the paths of our participating innovators. We are looking to collaborate with entities across the aging community and beyond: health systems, payers, providers, pharma/biotech/device corporations, investors, researchers, aging and social isolation experts, advocacy groups and community representatives. We are seeking:

Individuals: Deadline to apply is April 29
Mentors: Mentor startups in the accelerator
Faculty: Lead workshops and sessions throughout the accelerator

Partners: Deadline to apply is April 29
Offer potential pilots or act as an advisor to the entrepreneurs, helping them validate their solutions and refine their value propositions
If you are interested in learning more about any of the above opportunities to support the Accelerating Innovation in Aging program, please contact aging@matter.health.
About MATTER
At MATTER, we believe collaboration is the best way to improve healthcare. The MATTER collaborative includes more than 700 current and alumni startups from around the world, working together with dozens of hospitals and health systems, universities and industry-leading companies to build the future of healthcare. Together we are accelerating innovation, advancing care and improving lives. For more information, visit matter.health and follow @MATTERhealth.
About RRF Foundation for Aging
For more than 40 years, RRF Foundation for Aging, formerly The Retirement Research Foundation, has been funding programs that support older adults. The Foundation has awarded more than 5,000 grants worth more than $250 million — all dedicated to improving the quality of life for all of us as we age. RRF's grantmaking focuses on four priority areas — caregiving, economic security in later life, housing, and social and intergenerational connectedness. These issues are fundamental to allowing all of us to age where we want to and how we want to. RRF was one of the first private foundations to focus exclusively on aging issues, and continues to support a range of advocacy, direct service, research, training, and organizational capacity building efforts, both in Illinois and nationally. Learn more at www.rrf.org.