Event recap: The Novo Nordisk Innovation Challenge connects with innovators in Chicago and Seattle
The Novo Nordisk Innovation Challenge is in full swing. Last week, innovators in Chicago and Seattle gathered to network, learn more about the company's innovation and partnership strategy, and ask questions about the program.
In Chicago, Hollie Baigent, project lead of open innovation, and Katarina LeFever, senior manager of digital health innovation and patient-centric marketing, shared what Novo Nordisk has learned from 95 years innovating in diabetes treatment. They also shared how the company foresees improving diabetes care for the modern era.
"For the past 95 years, we've been pushing the boundaries in discovering and developing life-saving medicines to defeat diabetes. Now we need to go that extra step and actually disrupt the whole ecosystem," said Hollie.
"Only 6% out of the 415 million people [with diabetes] will achieve their desired health outcomes," Katarina said. "It's scary, but that's why we're here [at MATTER] and that's why we're hoping that we will be able — with your help — to close the gaps [in diabetes care] through digital health."
Novo Nordisk's Hollie Baigent and Katarina LaFever discuss the Novo Nordisk Innovation Challenge at an event in Chicago.
In Seattle, Dave Szakelyhidi, senior development engineer at Novo Nordisk, talked with Brook Health CEO Oren Nissim about the hurdles facing digital health startups. They also discussed how collaborations between startups and established companies, like Novo Nordisk, can speed the development of new digital solutions for people living with diabetes.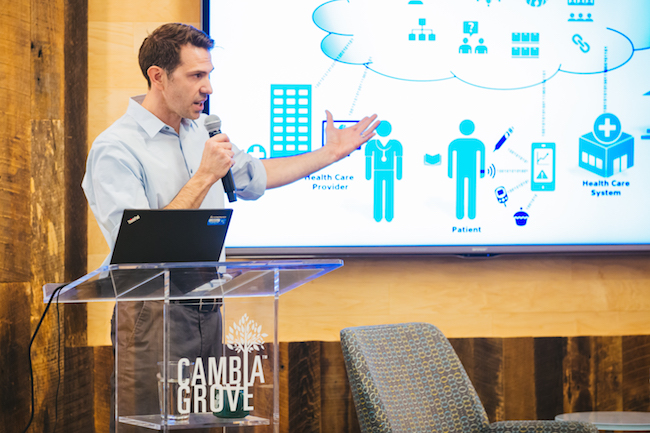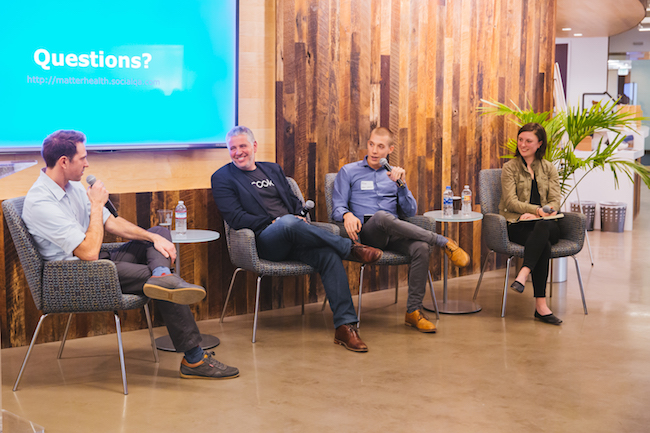 "Healthcare is complex," said Oren. "So, to build a successful digital health startup, you should not go at it alone. You need to get other people and organizations in your corner."
Below are some of the top questions and answers from the two events.
How do participants benefit from participating in this challenge?
Novo Nordisk markets its products in over 170 countries and is the world's largest producer of insulin. The biggest benefit to participants will be the opportunity to sit down with Novo Nordisk's team of leaders and mentors to actually co-develop the solution using a real data set from the connected pen.
As you think of a solution, is there really a one-size-fits-all approach or is it a segmented approach?
We are definitely moving towards a more segmented approach. Through digital health and real world data, we have the opportunity to segment our consumers, deliver the information they need when they need it and then share it with their providers. If we can use data to guide patients and their care team through their diabetes management, that is the key.
What kinds of data does the connected pen collect? What are some examples of how this data might be used?
The connected pen captures dose time and amount, as well as drug type. Some ideas for opportunities: Develop algorithms that can predict a hypo and send a notification or an alert. Combine this data with other elements, like exercise. Identify trigger points and show how to bring data together to create something more meaningful.
What outcomes is Novo Nordisk looking to achieve?
The Novo Nordisk Innovation Challenge is looking for solutions that tackle data sharing, titration, dialogue between patients and providers, and that provide new health insights. Most importantly, we're looking for solutions that are patient-centered and solve the problems of real people living with diabetes.
The main health outcomes we're looking to achieve are related to adherence and reduction in A1C levels. Other endpoints are hard to define today, but they will revolve around how patients interact with their physicians. If we initiate a digital solution through a physician — and if the physician sees the value of that solution — that helps patients get familiar with digital devices.
Driving change often starts with the physician as a person the patient can trust. But right now, primary care providers aren't equipped with the right tools. How can we help deliver the right information to patients when they need it? How can we supplement their care with a support network and community?
At the challenge bootcamp for semi-finalists, taking place in Chicago from November 13–15, we'll share a more detailed perspective on how Novo Nordisk thinks about outcomes. We also hope to better understand how physicians, payers and others are defining outcomes. We're hoping to gain that perspective through the MATTER healthcare innovation community.
Applications for the Novo Nordisk Innovation Challenge are due Friday, October 26.
Other questions? Read the challenge FAQ or email NN@matter.health.