Health Equity Innovation Challenge finalists announced by BCBSIL & MATTER
Update: Congratulations to the BCBSIL Health Equity Innovation Challenge winners! BCBSIL executives selected three winners following a live pitch event at MATTER on December 3, 2018.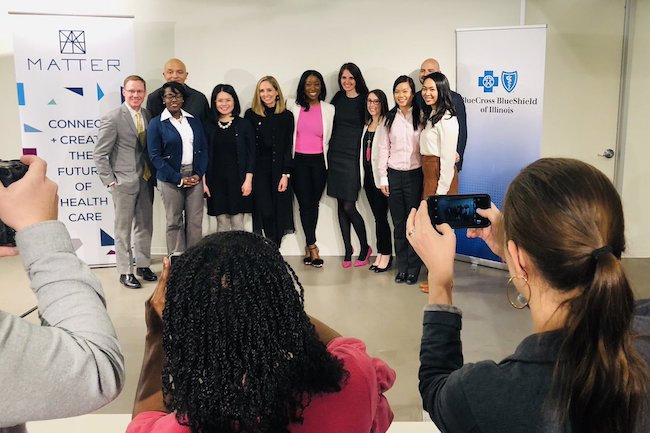 1st place: Bright Pink won $15,000 and a pilot with BCBSIL.
"Bright Pink is thrilled for the opportunity to partner with MATTER and BCBSIL to democratize access to personalized breast and ovarian cancer prevention for Illinois women. We look forward to bringing the expertise and resources of these leading healthcare innovators to bear on our efforts to empower women to know their cancer risk and manage their health proactively." - Meg Lassar, SVP of Strategy and Advancement at Bright Pink
2nd place: Amah Health won $10,000 and a pilot with BCBSIL.
"I named AMAH for my grandmother, Yueying. ("Amah" means grandma in Taiwanese). My family struggled with managing my grandma's diabetes and fitting Western medicine into her lifestyle and health beliefs. That's why I am dedicated to proactively assessing health behaviors of diverse populations to enable better patient experiences and outcomes for more families." - Yi-an Yang, CEO and founder of Amah Health
3rd place: Loyola Health Science Division student team won $5,000.
"I am thankful and honored for the opportunity MATTER and BCBSIL has provided us to think critically and tangibly to address systemic issues regarding health equity. Through the Health Equity Innovation Challenge, we have gained the confidence that our idea originally intended for a medical school project has vast potential to close health care gaps and improve patient outcomes." - Justine Ly, Student at Loyola University Chicago
---
In October, MATTER and Blue Cross and Blue Shield of Illinois (BCBSIL) announced the $30K Health Equity Innovation Challenge. The challenge asked the health care innovation community: How can we help close the gaps for Blue Cross and Blue Shield of Illinois members who are facing social, cultural and/or economic barriers to health care by advancing health equity and addressing the social determinants of health?
The response was overwhelming, with creative ideas and solutions pouring in from university researchers, student groups, community organizers, entrepreneurs and others. From this competitive pool of applicants, BCBSIL selected five companies to present their ideas at a live pitch event at MATTER on Monday, December 3, 2018.
Three winning teams will be selected to receive a cash prize and a six-month membership at MATTER. One of the winning teams will also have the opportunity to pilot their solution with BCBSIL.
Meet the Health Equity Innovation Challenge finalists:
AMAH Health offers health care and insurance providers a software-as-a-service solution that uses evidence-based behavior science to stratify and engage Less English Proficient (LEP) patients to help predict and influence their health behaviors in a culturally and linguistically appropriate way.
Bright Pink helps to close the gap for women who face barriers to accessing the information and resources they need to prevent and detect breast and ovarian cancer early, thereby contributing to lower morbidity and mortality rates for these cancers over time.
Koios Medical develops software for radiologists to interpret ultrasound images, using proprietary deep learning methods and patented data visualization to assist in diagnosing cancer. Koios increases the accuracy of all physicians tested while saving time, improving outcomes and reducing costs.
A team of students from the Loyola University Chicago Stritch School of Medicine proposes to develop predictive analytics using electronic medical record data to identify patients at risk of not showing to their appointment. Clinics can proactively contact these patients to address any socioeconomic barriers to making their appointment, ensuring patients receive the health care they deserve.
Lytic has developed a product, Checkup, a chatbot-powered digital health management platform. After users converse with the chatbot about symptoms, Checkup provides the next best step for care, scheduling and long-term care management.
You're invited to join us at MATTER for the Health Equity Innovation Challenge final pitch event on December 3. RSVP here.