Marketing Associate
MATTER
How to make your challenge application stand out
So you're thinking of applying to a MATTER challenge.
Over the past few years, we've hosted challenges with leading healthcare organizations like Blue Cross and Blue Shield of Illinois, Advocate Aurora Health and Novo Nordisk to solve crucial business challenges in the best way we know how: sourcing and facilitating collaborations with startups that can help them approach those challenges in a new way.
For startups, winning a challenge or pitch competition can be the break that gives them the boost they need to grow their business. However, hundreds of startups apply to the same challenges each year — and often, businesses with great solutions fail to even make it to the final round of the challenge they applied for. So how do you make sure your application and pitch don't get lost in the noise?
We decided to ask the experts.
To gain some insight into how a startup can make sure their submission stands out, we talked to the winners of our past challenges — and to the experts at our partner organizations who helped choose them.
We're kicking off this two-part series by sharing insights from the winners and leaders of the 2018 Novo Nordisk Innovation Challenge. In case you missed it, this year's challenge is open now and is accepting applications through December 13.
Dan Korelitz, Senior Vice President of Technology and Analytics at HumanCapitalWorks and a winner of the 2018 Novo Nordisk Innovation Challenge
Be true to yourself in your application.
"Be real in your application — don't guess what the challenge sponsor wants. You need to make sure you understand what they want and that you're not too rigid in your thinking, but also make sure you're being real and authentic. Accurately represent yourself and your company."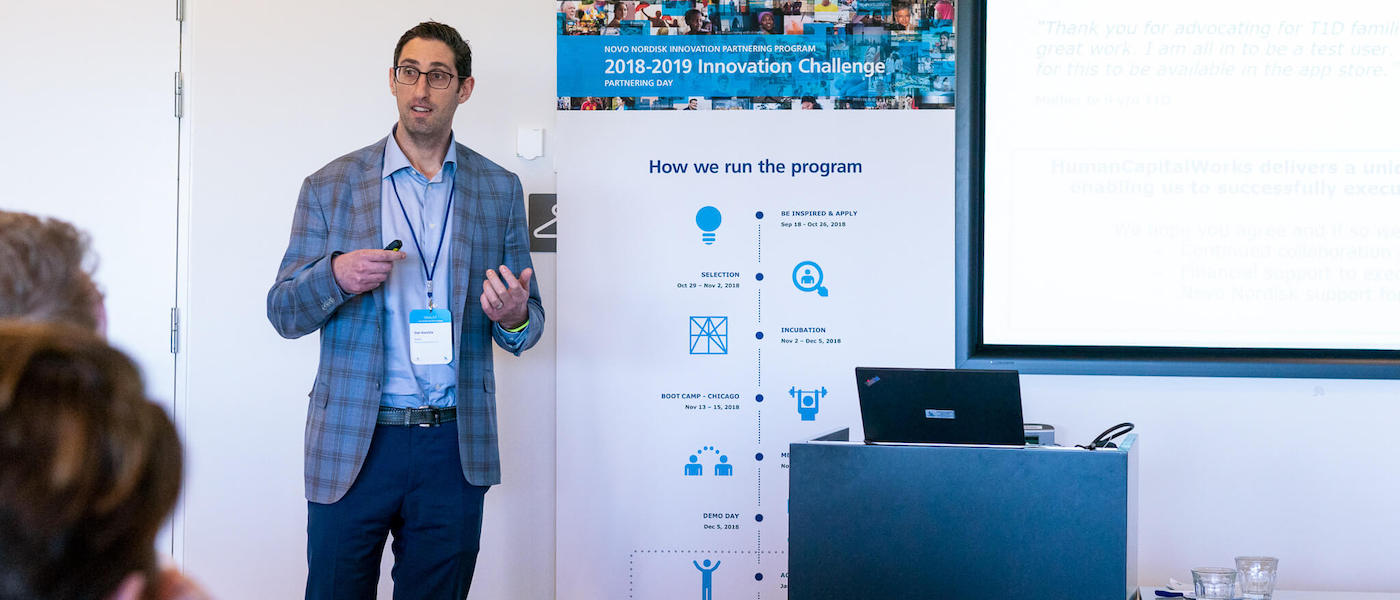 "When I applied [for the 2018 Novo Nordisk challenge], I found it difficult to guess what Novo Nordisk wanted because this was a whole new industry for me. So I was forced to think about why my solution is important to me and what I really had to offer them, and I think that worked to my advantage."
Show your personal connection to your solution.
"When it came to the final pitch, we really made sure that we established why we're passionate about our product and demonstrated a personal connection. It was a lot about the why and the people — both the people in our company and the people whose lives we're improving with our solution.
"And I'm just going to reiterate again and again how important it is, every step of the way, to be real and true to yourself and your mission."
Liam McMorrow, Founder of Adelie Health and a winner of the 2018 Novo Nordisk Innovation Challenge
Think creatively about how your solution could help solve the challenge problem.
"Read the challenge description carefully. Make sure your product is relevant, but be flexible if you need to make some changes to make it fit the challenge better. That's what I did when I applied to the 2018 Novo Nordisk Innovation Challenge. I wanted to work with Novo Nordisk because they're experts in the diabetes space, so I was willing to slightly alter my solution to better align with theirs. If the challenge organizer is someone who is important to the success of your business, be prepared to be flexible."
Don't do it alone: Find mentors to help you prepare your application and practice your pitch.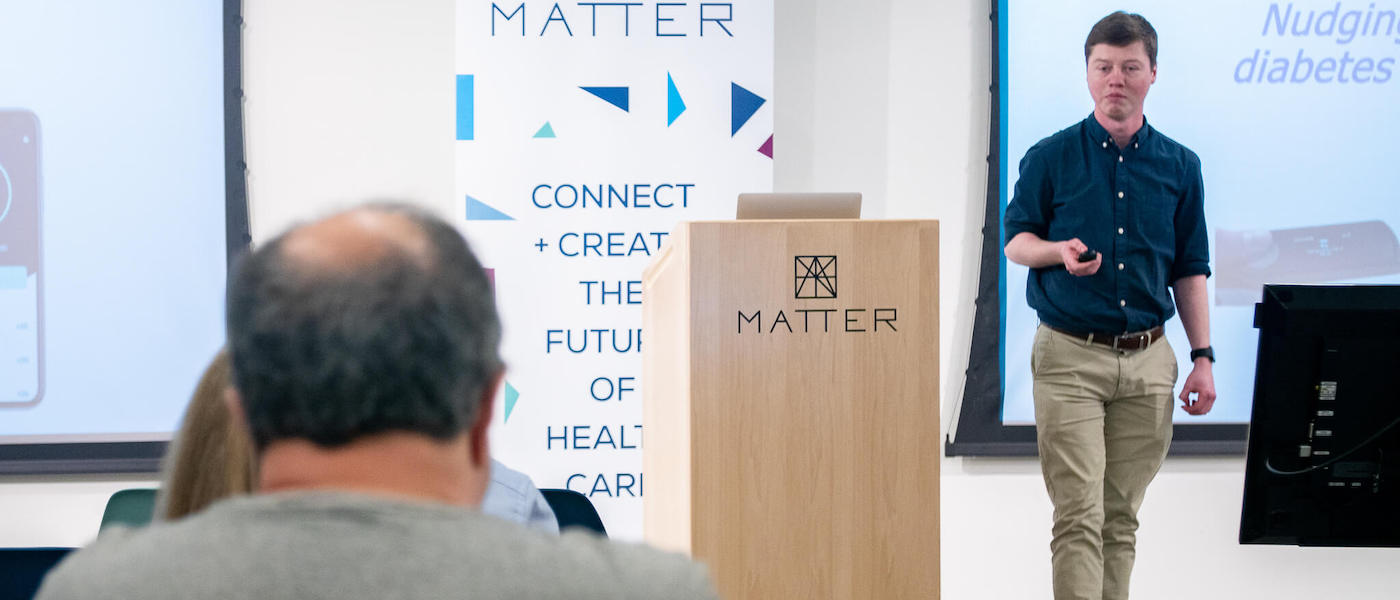 "Have people who aren't familiar with your solution proofread your application and hear your pitch to ensure clarity. Before the pitch day, I practiced pitching about five times to people who didn't know anything about my solution, but were professionals in the diabetes space. I also made sure that I had enough time in between each practice session so I could take their feedback and apply it to the next time I practiced the pitch."
Don't waste the resources you get once your initial application is selected.
"During the incubation period for challenge finalists, we had access to many different resources at MATTER, as well as personal meetings with experts at Novo Nordisk to refine our solutions before the final pitch day…I would just say, don't waste those resources.
"People are much different in a one-to-one session than they are in a big meeting, so you can learn a lot about what the company is really looking for in those one-to-one sessions. I made sure to take advantage of that and book meetings with everyone I could.
"Even if I hadn't won, the bootcamp period was still very helpful both to learn more about the industry and make important contacts. It was definitely worth participating in the challenge just for that part of it."
Anja Viberg Jackson, Senior Vice President Communication Partner of Device Research and Development at Novo Nordisk
Make your application easy to understand.
"Think of where your solution or technology fits in the challenge and express that clearly, as well what problem you're trying to solve so that your application is easier to understand."
"Specifically for our current challenge, consider how your idea fits into the solution we're trying to find and clearly address that in your application. For example, you may have a component of some material that could help make Novo Nordisk's injection devices fit for circularity. Tell us how that material fits into our products."
During your pitch, show the judges that you're someone they want to work with— and that you understand how to work with a corporate entity.
"You have to show the value that you bring and what benefits this collaboration could create. Be engaging and humble.
"Corporate companies are a lot less agile than what startups are used to, so it's important that you show an understanding of that longer decision process by accounting for it in your pipeline lead time. We're also more risk averse, so your solution must have a certain amount of reliability."
Current challenges accepting submissions include the Novo Nordisk Innovation Challenge (Submission deadline: Dec 13) and the Roche Diabetes Innovation Contest (Submission deadline: Jan 10). Learn more and apply on our challenges page.
Apply to a MATTER challenge
---