Hear from the winners of the MATTER COVID-19 Support Startup Grants
Across industries, COVID-19 has transformed the way businesses design, manufacture and sell their products — often fundamentally changing the businesses themselves.
As part of the COVID-19 Pandemic Response (CPR) initiative, MATTER identified three member startups as recipients of the COVID-19 Support Startup Grants: AgileMD, Diagnostic Photonics and EmOpti. Each of these companies submitted a detailed plan for how they are pivoting their offerings or expanding their services to address a pandemic-related challenge. Three months into receiving the grants, we caught up with the founders of each company to hear more about the solutions they're building and the progress they've made with the help of the grant.
AgileMD
Focus area: Better aggregating and harnessing data to improve clinical decision-making
In normal circumstances, adapting and distributing new clinical workflows could take a hospital months, but throughout the pandemic, the need to adjust protocols and ensure that those guidelines are rapidly communicated to the front lines requires a different model.
As the situation with COVID-19 evolves, some care teams are meeting as many as three times a day to review the latest resources and revise standards of care. With retired nurses and physicians rejoining the workforce, and non-intensivists being asked to manage acute COVID-19 patients, it's crucial to update clinical pathways and make them available to staff quickly. AgileMD's Clinical Pathway tool, which was developed at the University of Chicago, allows clinical leadership teams to update pathways and publish them to the electronic health record (EHR) in a matter of minutes, allowing providers to be assured that the current workflow is always in the chart, where they are working already.
According to Dr. Dana Edelson, the co-founder and president of AgileMD and the executive medical director for rescue care & resiliency at UChicago Medicine, "Top-tier medical centers are using AgileMD to develop and share COVID-19 clinical pathways. Our easy-to-use editing platform enables medical teams across emergency, ward, intensive care, and telehealth to quickly adapt and disseminate guidelines to facility-specific standards with minimal IT involvement."
Dr. Edelson and her co-founder, CEO Borna Safabakhsh, are not just focused on standardizing care through clinical pathways. Their clinical decision support platform also includes the eCART tool, which provides automated risk stratification and early warning for patient deterioration. This capability has reduced mortality and failure to rescue incidence, also helping hospitals more effectively allocate healthcare providers and equipment to save lives and improve clinician and patient safety.
Accurate and timely risk assessment is particularly relevant for COVID-19 treatment, as patients' conditions can rapidly deteriorate into respiratory failure and shock, increasing their need for emergency intubations and cardiac resuscitations that are dangerous for both patients and providers. eCART predicts which patients are most likely to need intensive care in real time, helping providers to change course earlier and reduce the need for high-risk interventions. It also allows clinical teams to more accurately plan ahead for who might need vital resources, like ventilators.
eCART works by harnessing vital signs and other patient information stored in the EHR, then calculating the probability of deterioration in real time. eCART's risk score and trend analysis show clinical staff what biomarkers are contributing to heightened risk and how those inputs are changing over time to allow for the most informed care decisions. Clinical pathways then complement this capability, guiding medical teams through dynamic decisions trees to the best course of action.
AgileMD is focused on using their grant to further validate a new version of the eCART analytic for COVID-19 deterioration prediction.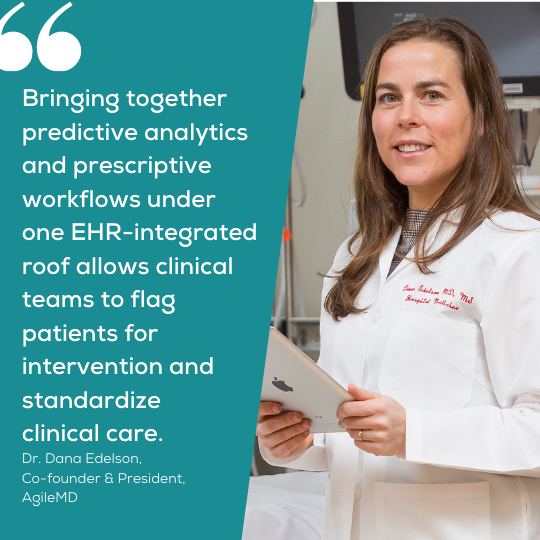 Diagnostic Photonics
Focus area: Device development
In March of 2020, Chicago-based medical device company Diagnostic Photonics was mid-study on their handheld-high resolution imaging system for human tissue — then, COVID-19 became a global pandemic and the study was paused.
"We had support and funding, but suddenly our core business was halted. We needed something else to do. Ultimately, we knew we were equipped to address COVID-19 because at heart we are a medical device company, and we knew we could help," says Andrew Cittadine, CEO.
The Diagnostic Photonics team recognized that treating COVID-19 patients is resource intensive, and the volume of patients can quickly overwhelm even large, well-equipped hospitals. To help, they began working on the concept for a portable, low-cost CPAP device designed for use in resource-constrained environments like ambulances, rural clinics, nursing homes or overwhelmed hospitals.
Because most patients requiring oxygen therapy require it immediately (at first response or admission), a fast, simple, and effective non-invasive respiratory support device with viral filtration helps reduce exposure risks to first responders and provides a solution that can be transported with the patient until a permanent care option is available. It may also serve as the primary treatment in areas with limited resources or a particularly severe outbreak where no other options are available. Lastly, non-invasive ventilation appears to be associated with faster recoveries, far less hospital resource utilization, and better outcomes for COVID-19 patients than traditional mechanical ventilation, making it a promising alternative for all but the sickest patients.
The Diagnostic Photonics device is currently under review for FDA Emergency Use Authorization (EUA).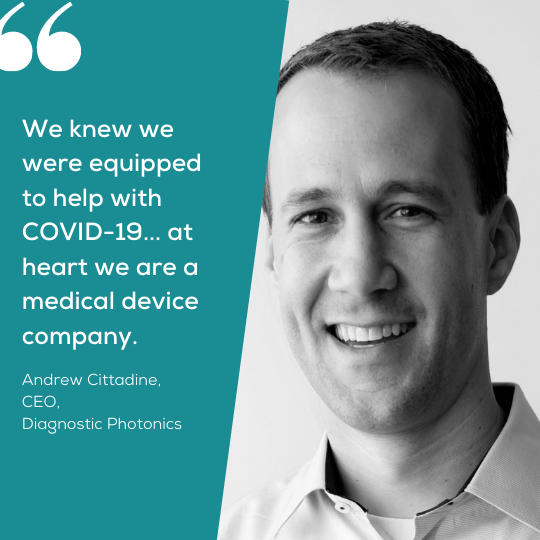 EmOpti
Focus area: Reducing physical interactions between clinicians and patients within healthcare facilities
Health systems have historically made enormous investments in physical facilities and personnel. Now, they must yield higher productivity from these investments to remain financially viable, and at the same time employ new workflows to decrease exposure risk and keep patients and staff safe.
Wisconsin-based health tech startup EmOpti enables providers in acute care facilities to serve patients in new ways that combine remote and on-site resources. The company provides a technology platform and workflow apps to reduce COVID-19 exposure while speeding patient flow in emergency departments, observation units, inpatient units and other acute care settings.
EmOpti is applying their grant funds to expand their offerings to include Virtual Rounding: a capability that integrates into the provider workflow using virtual consults to decrease exposure risk in emergency department "hot zones" and observation units.
"We know that the majority of staff visits into a hospital room do not involve direct contact with the patient. By reducing the traffic flows in and out of a room through virtual rounding, we reduce exposure risks, we reduce PPE use and we maximize efficiency," said Dr. Ed Barthell, EmOpti's CEO. "EmOpti technology allows health systems to scale up and converge care. A remote provider can monitor several different areas of a care facility, or multiple facilities, simultaneously. This helps with staffing shortages and provides cost efficiency. Hospital systems are under incredible financial stress, and these solutions can help relieve that."
To help hospitals nationwide manage COVID-19 cases, EmOpti offered its flagship ED Virtual Intake Solution free of software charges for 90 days, with a rapid 7-day deployment and no long term obligations. They are currently applying grant resources into virtual rounding pilots at Chicago's Advocate Aurora and Einstein Health in Philadelphia.