MATTER wraps up inaugural 51 Labs women's health accelerator
Eleven menopause startups conclude program in final showcase to key stakeholders
April 19, 2023, CHICAGO — 51 Labs, MATTER's women's health platform, culminated its inaugural accelerator focused on advancing the development of innovations that empower and support women during their menopausal transition.
In September 2022, MATTER launched 51 Labs to address the gap in women's health innovation. Despite its prevalence, women's health has inaccurately been categorized as a niche space, with only five percent of all U.S. digital health funding going to women's health startups.1 More than half of the U.S. population — 51 percent — are women, and menopause is a life stage that 100 percent of women will experience, yet innovation in this space has seen very little activity and funding.2 Astellas Pharma US, Walgreens, BayCare, Parkview Health, University of Chicago Medicine and Capita3 joined MATTER to identify the top solutions innovating in menopause and advance their development through the first 51 Labs cohort.
"We were thrilled to partner with MATTER on their first 51 Labs program to support women's health entrepreneurs and innovation," said Karen Keller, associate director of women's health marketing at Astellas Pharma US. "Every woman will experience menopause at some point in their life, and it is imperative that we champion new ideas and solutions for women going through the menopausal transition."
The inaugural cohort of 11 startups — Alloy Health, Amira, Libbie Health, Liv Labs, Madorra, MyMenopauseRx, Patient Orator, Plenapausa, Renalis Health, Snippa and Thermaband — was selected from a pool of applicants representing five continents, seven countries and 18 U.S. cities. Over the course of 12 weeks, the cohort participated in a robust, multifaceted curriculum consisting of exclusive workshops, peer group forums, industry roundtables and one-on-one and one-to-many mentorship to further develop the capabilities of each entrepreneur and their business, including building key competencies such as product-market fit, go-to-market strategy, fundraising and presentation and selling skills. The cohort was guided by three lead mentors: Pamela York, co-founder and managing partner of Capita3, Delphine O'Rourke, leader of Goodwin's women's health and wellness industry practice, and Jennifer Fried, lead investor at Portfolia's FemTech Fund.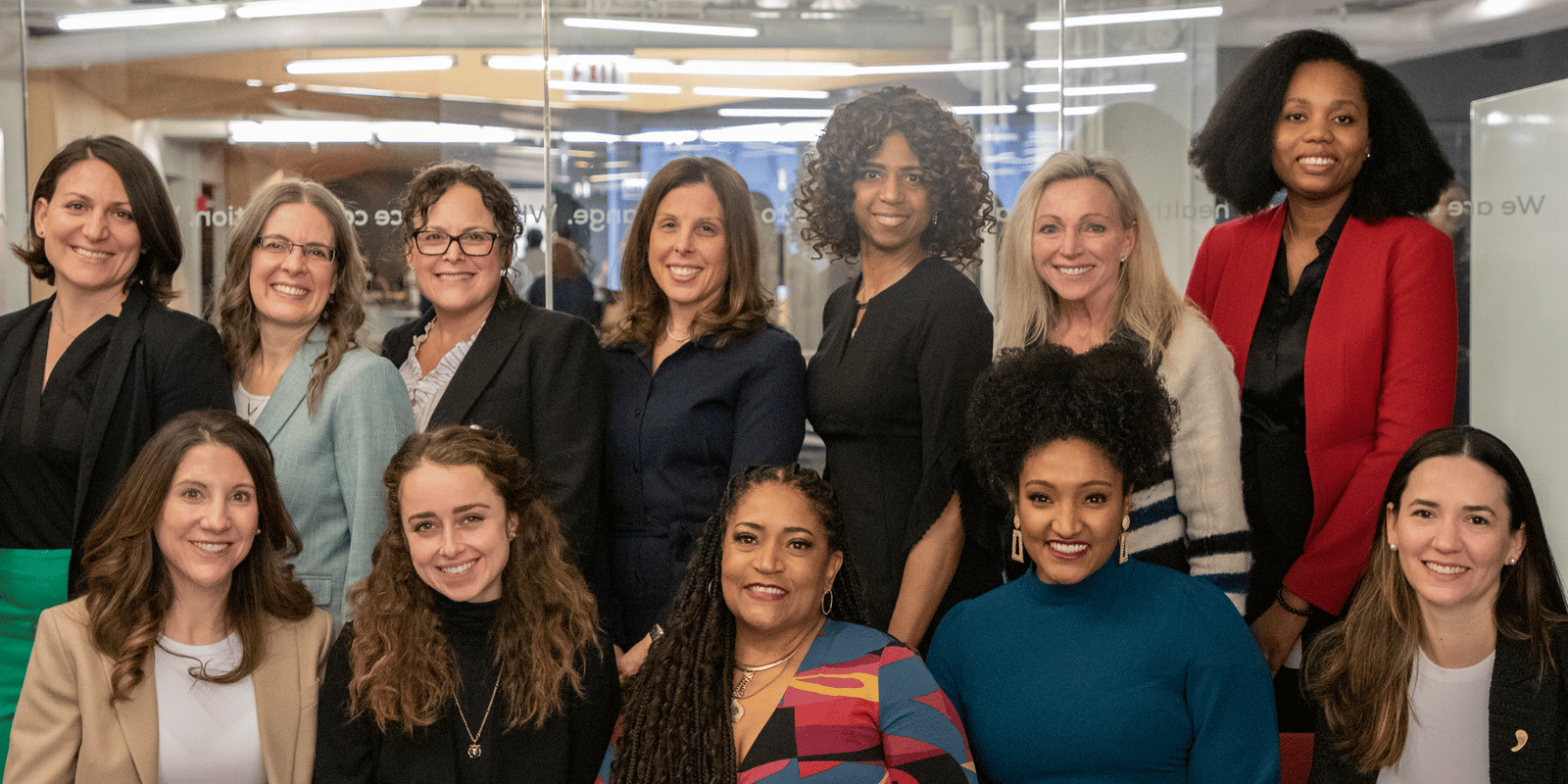 At the final showcase, the cohort presented their solutions to a live audience of key stakeholders from potential customers and investors and a panel of industry experts, including University of Chicago Medicine Chief of Gynecology and Minimally Invasive Surgery Dr. Shari Snow, Walgreens Senior Director of Brand Management and Product Development Andrea Collaro and Astellas Director of Patient Centricity Allison Troy.
"After practicing in obstetrics and gynecology for nearly three decades, it was energizing to hear from the cohort of women innovating in menopause," said Dr. Shari Snow. "The entrepreneurs inspire me with their desire to improve every woman's menopause experience."
"After practicing in obstetrics and gynecology for nearly three decades, it was energizing to hear from the cohort of women innovating in menopause." — Dr. Shari Snow, Chief of Gynecology and Minimally Invasive Surgery at University of Chicago Medicine
"Our healthcare system was built by and for men, and innovations focused on women's health have yet to receive the level of funding and attention they deserve," said Steven Collens, CEO of MATTER. "As one of the first accelerators to exclusively focus on women's health, 51 Labs is at the forefront of advancing the development of innovations in this space. We are grateful to the cohort and our partners, sponsors and mentors who made the first program a success."
"As one of the first accelerators to exclusively focus on women's health, 51 Labs is at the forefront of advancing the development of innovations in this space." — Steven Collens, CEO of MATTER
Each of the startups received a six-month MATTER membership to continue their access to learning and development opportunities, capital and customers and a dynamic community of healthcare innovators.
You can watch each startup's presentation at the final showcase here:
Later in 2023, MATTER plans to launch the next 51 Labs cohort, which will focus on advancing the development of innovations that reduce preventable maternal mortality in the U.S. If you're interested in getting involved, please email 51labs@matter.health.
Sources:
"Building comprehensive women+ digital health: Eight sectors serving women+ needs," Rock Health, September 27, 2021.
"Menopause," National Library of Medicine, 2022.
---
About MATTER
At MATTER, we believe collaboration is the best way to improve healthcare. The MATTER collaborative includes more than 800 current and alumni startups from around the world, working together with dozens of hospitals and health systems, universities and industry-leading companies to build the future of healthcare. Together we are accelerating innovation, advancing care and improving lives. For more information, visit matter.health and follow @MATTERhealth.
About Astellas Pharma US, Inc.
Astellas Pharma US, Inc. is a U.S. affiliate of Tokyo-based Astellas Pharma Inc., a pharmaceutical company conducting business in more than 70 countries around the world. Astellas stands on the forefront of healthcare change to turn innovative science into value for patients. Keeping our focus on addressing unmet medical needs and conducting our business with ethics and integrity enables us to improve the health of people throughout the U.S. and around the world. For more information on Astellas, please visit: https://www.astellas.com/us. You can also follow us on Twitter at @AstellasUS, Facebook at www.facebook.com/AstellasUS or LinkedIn at www.linkedin.com/company/astellas-pharma-us. 
About Walgreens
Walgreens (www.walgreens.com) is included in the United States segment of Walgreens Boots Alliance, Inc. (Nasdaq: WBA), an integrated healthcare, pharmacy and retail leader serving millions of customers and patients every day, with a 170-year heritage of caring for communities. As America's most loved pharmacy, health and beauty company, Walgreens purpose is to champion the health and well-being of every community in America. Operating nearly 9,000 retail locations across America, Puerto Rico and the U.S. Virgin Islands, Walgreens is proud to be a neighborhood health destination serving approximately 9 million customers each day. Walgreens pharmacists play a critical role in the U.S. healthcare system by providing a wide range of pharmacy and healthcare services. To best meet the needs of customers and patients, Walgreens offers a true omnichannel experience, with fully integrated physical and digital platforms, supported by the latest technology to deliver high-quality products and services in local communities nationwide.
About BayCare
BayCare is a leading not-for-profit healthcare system that connects individuals and families to a wide range of services at 15 hospitals and hundreds of other convenient locations throughout the Tampa Bay and central Florida regions. The system is West Central Florida's largest provider of behavioral health and pediatric services and its provider group, BayCare Medical Group, is one of the largest in the region. BayCare's diverse network of ambulatory services includes laboratories, imaging, surgical centers, BayCare Urgent Care locations, wellness centers and one of Florida's largest home care agencies, BayCare HomeCare. Its Medicare Advantage insurance, BayCarePlus, is among the region's few 5-star-rated plans and the system is ranked in the top 20 percent of large health systems in the country by FORUTNE/MerativeTM. BayCare's mission is to improve the health of all it serves through community-owned, health care services that set the standard for high-quality, compassionate care.
About Parkview Health
Parkview Health is a not-for-profit, community-based health system serving a northeast Indiana and northwest Ohio population of more than 895,000. Parkview Health's mission is to improve health and inspire well-being in the communities it serves. With more than 14,000 employees, Parkview is the region's largest employer. Parkview Health includes 10 hospitals and an extensive network of primary care and specialty care physicians. Parkview has been designated a Magnet® health system for nursing excellence.
About University of Chicago Medicine
The University of Chicago Medicine, with a history dating back to 1927, is one of the nation's leading academic medical institutions. UChicago Medicine comprises the University of Chicago Medical Center, which offers a full range of primary and specialty care for adults and children through more than 40 institutes and centers; Ingalls Memorial, a community-based hospital and outpatient facility; a network of outpatient clinics and physician practices throughout Chicagoland and Northwest Indiana; the Pritzker School of Medicine, one of the top medical schools in the nation; and the University of Chicago Biological Sciences Division, with an affiliated 12 Nobel Prize winners in physiology or medicine.
About Capita3
Capita3 delivers cohort-based programs that transform entrepreneurs and healthcare innovators into leaders who can operate at their highest level of performance. Our methods are fast, personalized, and outcomes driven. Upon completing Capita3 programs, outstanding results occur for many participants, often at unprecedented speed.
Capita3 programs are organized around a significant, individualized business milestone for which there is considerable risk and uncertainty, and each person develops a personalized plan for achieving that milestone. Participants are facilitated through processes of discovery where they can see and resolve any internal barriers that could interfere with their success, while simultaneously learning how to leverage their natural powers to gain rapid traction.