Roche Diabetes Care Innovation Contest update: Startups present final pitches; DayTwo named winner
On June 8, the four finalist teams for the 2020 Roche Diabetes Care Innovation Contest gathered virtually to share their final pitches with Roche Diabetes Care judges panel.
This was the culminating event in a series of programs that helped finalists pressure test their ideas, refine their solutions and identify the best ways to collaborate and integrate with Roche Diabetes Care.
Companies presented a diverse range of solutions that are improving life for people living with diabetes, from early and convenient screening of diabetic retinopathy (AEYE Health) to non-invasive glucose monitoring (Spectrophon) to clinical decision support (Healthy Interactions).
"Today, 50 percent of Roche business is fueled by innovation, whether directly or in partnership. Of that, 70 to 80 percent are incremental innovations, which makes it even more important to collaborate with outside innovators early on," said Dr. Jörg Hölzing, global head of strategy and customer solutions at Roche, in the opening remarks. "It is why this innovation challenge is so important."
Roche finds its challenge winner in DayTwo
Ultimately, judges chose DayTwo— an Israel-based precision medicine company that uses microbiome data to create personalized nutrition protocols — as the winner of the challenge. DayTwo's nutrition protocols, which are delivered through an app, have shown to help reduce HbA1c and increase time under glycemic control without the need to eliminate carbs or restrict calories. DayTwo will receive $20,000, a one-year membership to MATTER and further collaboration opportunities with Roche.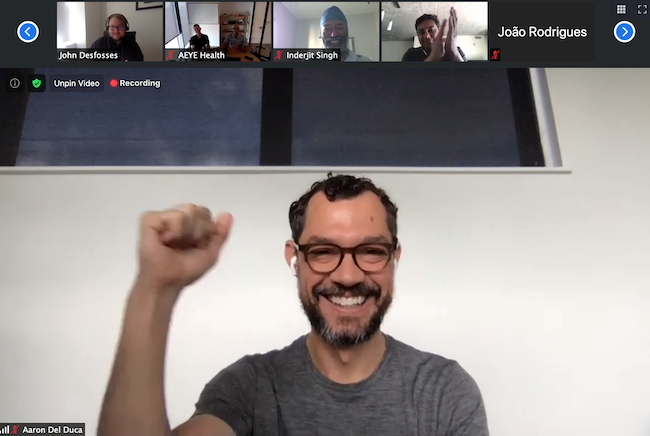 Aaron Del Duca and the rest of the DayTwo team celebrate their win on the announcement call.
Marco De Polo, head of strategic insights and open innovation at Roche shared, "At Roche we have discovered the unmet customer needs we want to target for value creation, and through this program, our goal has been to find the innovators out there who are expertly positioned to address those needs. DayTwo is one of those companies that is perfectly positioned to address unmet patient needs and solve multiple problems through a personalized nutrition solution."
"We see a mountain-sized opportunity ahead of us — but thanks to the accelerator program our perspective has been sharpened and exciting opportunities are becoming visible right below the surface." said Aaron Del Duca, vice president of microbiome platform at DayTwo. "When we think of combining Roche's strengths with our own knowledge base, we see a tremendous opportunity."
Diabetes innovation goes virtual
Just as the 10 semi-finalist teams closed out the incubation phase of the contest and started to prepare for semi-finalist pitch day, the World Health Organization declared COVID-19 a pandemic. Quickly, challenge leaders needed to identify how to virtually deliver the same experience to dispersed teams of entrepreneurs across the globe. Following the semi-finalist pitch day, the four finalists participated in a six-week, fully-virtual accelerator — a first for Roche and MATTER. The accelerator focused on team-based sessions that helped finalists identify and validate the key risks and technical aspects of their ventures, as well as define and articulate a collaboration project proposal.
Throughout the accelerator process, the DayTwo team shared that having a dedicated mentor from within Roche's global organization was crucial to helping shape their final pitch. "Our mentor provided expert navigation and better informed our efforts by sharing feedback from experts across multiple divisions of Roche," said Andrew Federici, VP of marketing at DayTwo. "He really invested the time to get to know us, and that's what helped us better communicate business opportunities to Roche's executive team."
What's next?
Though only one company was chosen as the challenge winner, Roche leaders were impressed by the assortment of solutions that finalists had to offer and optimistic about the ways they may be able to work together in the future.
"At the end we asked ourselves 'How do we pick?' Each team had a really good story and proposal on how one plus one makes three," said Stephen Ranjan, vice president of professional and non-insulin therapy franchise at Roche, on a call announcing the winners. "Each of these innovations have the potential to greatly complement what we are doing at Roche, the next step is translating this work to give patients true relief. We're excited to focus on that."
"DayTwo is proud to be recognized by Roche and MATTER as the winner of the Roche Diabetes Innovation Competition. We forward to collaboration with Roche to leverage our microbiome platform and food as medicine solution with Roche's Diabetes Care Ecosystem," says Lihi Segal, CEO and co-founder, DayTwo.
When asked what the DayTwo team is most looking forward to in this new opportunity, Andrew shared, "On the surface, it might seem challenging to align a small start-up like DayTwo with a giant like Roche, but the shared vision to improve the health of people with diabetes and prediabetes gives us great optimism that the partnership will be extremely productive for patients and for both companies. We can't wait to get started."
A special thanks to our distinguished panel of judges who helped shape the final pitch day:
● Jörg Hölzing - Global Head of Strategy & Customer Solutions, ​Roche
● Christophe Mauge - Global Head of R&D and Digital, ​Roche
● Lisa Huse - Regional Head of Marketing and Customer Experience, Roche Diabetes Care
● Stephen Ranjan - VP, Professional & Non-Insulin Therapy Franchise, Roche
● Steven Collens - CEO, MATTER Health