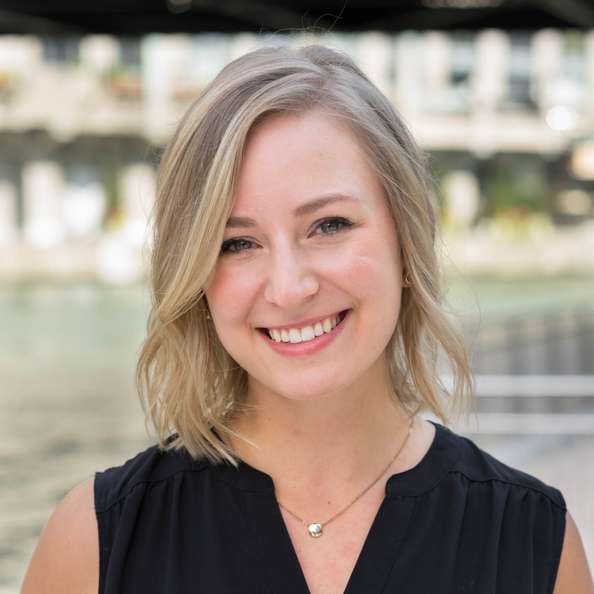 Marketing Associate
MATTER
These businesses are building the future of cancer care
Earlier this month, more than 40,000 cancer researchers, clinicians and innovators convened in Chicago for the American Society of Clinical Oncology (ASCO) annual meeting, the world's largest cancer research conference. During the meeting, we hosted MATTER's first oncology startup showcase.
Following this theme, we're spending June highlighting a few of the MATTER businesses building a new and better future for cancer care, from de-risking new immunotherapy treatments to addressing care challenges in underserved regions of the world.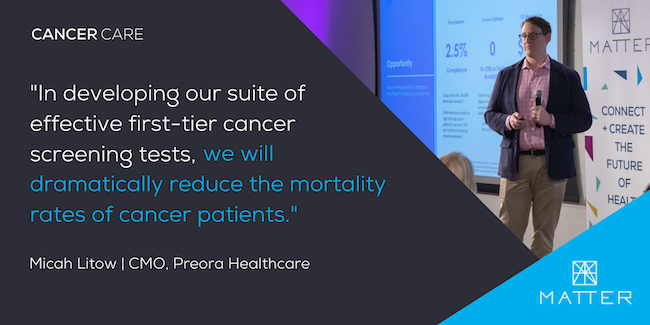 Micah Litow, Chief Marketing and Business Development Officer of Preora Healthcare
What is Preora Healthcare's mission?
Our team at Preora Healthcare is focused on making dramatic improvements in patient survival rates through the early detection of leading forms of cancer.
How will Preora Healthcare improve cancer care?
At Preora Healthcare, we believe in the power of two-tier screening. Unfortunately, many of the leading forms of cancer are missing an effective first-tier test. A well designed first-tier test is easy to administer, accurate and cost-effective. At Preora Healthcare, we are leveraging our chromatin visualization platform to build first-tier cancer screening tests for leading forms of cancer that have long gone unserved. Our initial focus is on developing a lung cancer screening test that can be conducted as part of an annual exam for those patients at the highest risk of developing lung cancer.
What will the world look like if Preora Healthcare achieves everything you hope and dream?
In developing our suite of effective first-tier cancer screening tests, we will dramatically reduce the mortality rates of cancer patients. Using lung cancer as an example, patients caught in the early-stage of disease progression have a 50-80% five-year survival rate, while those caught in the latest stages of disease progression have less than a 4% five-year survival rate. Today, 15% of lung cancers are caught early-stage when survival rates are the highest. When we accomplish our goals, 85% of lung cancer patients will be caught in the early stages when they have a 12-20 times greater five-year survival rate.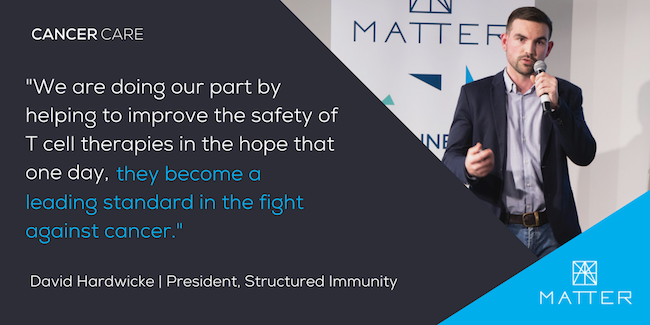 David Hardwicke, Co-founder and President of Structured Immunity
What is Structured Immunity's mission?
Structured Immunity is a biotechnology company dedicated to accelerating and de-risking the development of T cell therapies.
T cell therapy uses living cells from a patient's immune system to locate and destroy cancer in the body. It is an emerging and exciting type of treatment with massive potential. However, despite a great deal of progress over the last few years, these therapeutics are difficult to develop and can cause adverse side-effects in clinical trials.
How will Structured Immunity improve cancer care?
By offering proprietary technology and innovative services to biopharmaceutical companies, Structured Immunity enables our partners to overcome some of the challenges they face when developing T cell therapies. Our technology can help them to develop safer, more effective therapies — reducing the risk of adverse side effects occurring in clinical trials.
What will the world look like if Structured Immunity achieves everything you hope and dream?
Many emerging, potentially groundbreaking technologies face numerous challenges during their development and T cell therapy is no different. Reimbursement, manufacturing, regulatory and safety are some of these major hurdles and the industry is actively working together to try and figure these out. At Structured Immunity, we are doing our part by helping to improve the safety of these therapeutics in the hope that one day they become a leading standard in the fight against cancer.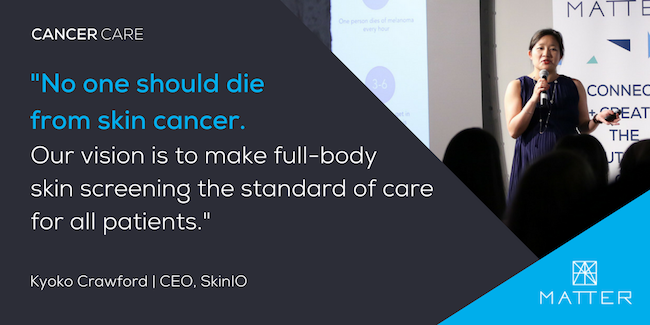 Kyoko Crawford, CEO of SkinIO
What is SkinIO's mission?
SkinIO's mission is to ensure that every patient has access to routine full-body skin checks so that skin cancer can be effectively detected and treated at the earliest stages.
How will SkinIO improve cancer care?
The statistics around skin cancer are increasingly dire. Melanoma rates have tripled since the 1970's, and one person dies from melanoma every hour while the number of dermatologists to handle this crisis continues to wane (there are now fewer than 10,000 dermatologists in the US). However, the reality is that skin cancer is easily treatable if it is caught early. The common denominator for all skin cancers is change — a new mole or a change to an existing mole. Unfortunately, the current standard of care in dermatology is ill-suited for patients and physicians to effectively monitor the changes in skin that would enable early detection of skin cancer due to the lack of standardized, objective cataloging of skin over time.
SkinIO is designed to easily capture a visual timeline of a patient's skin to detect and track significant changes. Our platform is deliberately built on a commodity mobile platform to increase access and usability to more patients to effectively and regularly check their skin and protect themselves from skin cancer.
What will the world look like if SkinIO achieves everything you hope and dream?
No one should die from skin cancer. The five-year overall survival rate for melanoma, if it is caught early in Stage 0 or 1a, is 99%. The mortalities and cost associated with skin cancer are largely due to catching the disease too late. More effective and accessible screening is the answer and our vision is to make full-body skin screening the standard of care for all patients.
---