These MATTER startups are transforming mental health care
May is Mental Health Month! As part of this national conversation, we're spending the month highlighting MATTER startups who are closing care gaps, fighting stigma and empowering patients to take an active role in their mental health.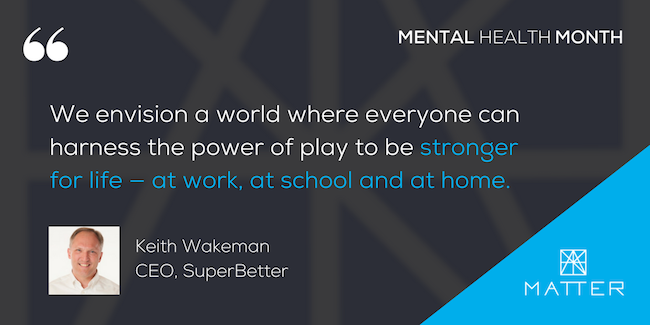 Keith Wakeman, CEO of SuperBetter
What is the problem you're trying to solve?
Digital health tools hold incredible promise to improve mental health outcomes by complementing traditional care and extending its reach; however, these tools often feel corporate or clinical and struggle to engage in everyday life.
2.6 billion people around the world play, on average, an hour of video games each day. We created a way to use the psychological strengths and common language of game play to empower people with depression, anxiety, chronic pain, concussion and other conditions to tackle their challenges.
How are you solving this problem?
To the human brain, playing is different than learning. Our gameful approach is a modern, effective and broad-reaching complement to traditional treatment.
Playing SuperBetter improves resilience, reduces depression and anxiety and supports recovery. In two recently published meta-analyses, SuperBetter and its Live Gamefully® method had the #1 greatest effect for reducing symptoms of depression and anxiety among smartphone apps evaluated in randomized controlled studies.
What will the world look like if SuperBetter achieves everything you hope and dream?
We envision a world where everyone can harness the power of play to be stronger for life — at work, at school and at home.
Our strategy is to form a major partnership every two years to bring our SuperBetter method and brand to a new industry. In 2016, we partnered with a private-equity backed health improvement company to co-develop a new version of SuperBetter that meets the needs of the employee wellness and human capital markets: SuperBetter At Work.
Later this year we will evaluate candidates for our next partnership to bring SuperBetter to the behavioral health or education markets.
Learn more about SuperBetter
Watch the TED Talk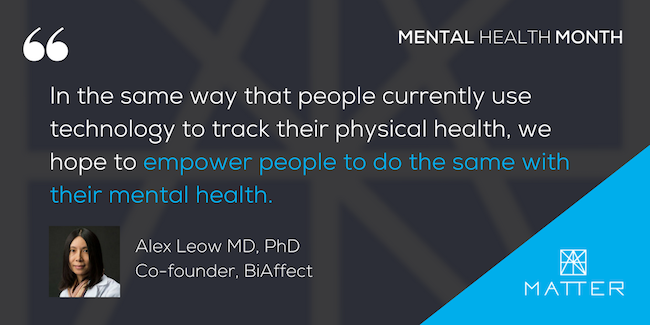 Alex Leow MD, PhD, Co-founder of BiAffect
What is the problem you're trying to solve?
For most of history, mental health disorders have been chiefly defined by the subjective experiences of people with these disorders — we know people have a depressive disorder because they feel depressed, or they have a psychotic disorder because they experience hallucinations. The lack of objective markers for the diagnosis and assessment of these disorders creates barriers to treatment in terms of increased uncertainty and increased time in the evaluation of what disorder we are treating, as well as the effectiveness of our treatment.
How are you solving this problem?
We are a research lab based at the University of Illinois at Chicago with expertise in both the provision of clinical care for people with mental health disorders and the application of machine learning to a variety of clinical and research problems. BiAffect's innovative approach aims to understand and examine the ubiquitous 'virtual mental-health footprints' or 'signatures' of abnormalities in people suffering from mood disorders, notably abnormalities in cognitive skills.
What will the world look like if BiAffect achieves everything you hope and dream?
In the same way that people currently use technology to track their physical health, we hope to empower people to do the same with their mental health. Beyond just monitoring, though, we aim to provide people with the information that they can use to identify incipient episodes and intervene before things get worse. We also believe that the creation of digital phenotypes in conjunction with our ever-increasing understanding of the genetic and neurological bases of these disorders will lead to a deeper understanding of the disorders themselves — enabling us to develop more effective and targeted treatments.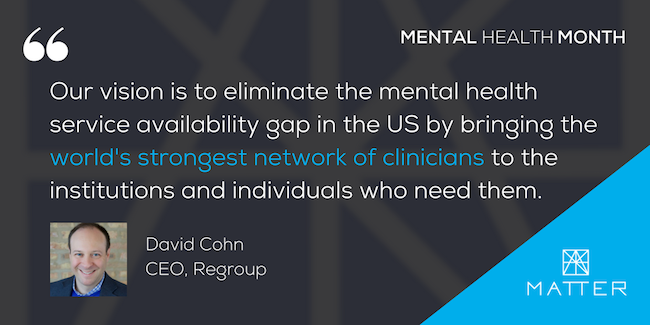 David Cohn, CEO of Regroup
What is the problem you're trying to solve?
The prevalence of mental illness and the need to expand mental health services have been recognized for many years. In any given year, 1 in 5 U.S. adults experiences mental illness. Despite the high prevalence and the significant cost of mental illness, only around 43% of adults with psychiatric conditions receive mental health services.
How are you solving this problem?
Regroup provides high-quality clinicians who deliver telepsychiatry and other telemental health services via a secure, HIPAA compliant virtual care platform. Regroup clinicians practice within healthcare entities experiencing clinician shortages or seeking a more flexible approach to behavioral healthcare delivery.
What will the world look like if Regroup achieves everything you hope and dream?
Our vision is to eliminate the mental health service availability gap in the United States by bringing the world's strongest network of clinicians to the institutions and individuals who need them via best-in-class products and services that extend reach, increase productivity and improve outcomes.
Mental Health Month is an initiative of the National Alliance on Mental Illness to fight stigma and provide support for people with mental illness and their families. Follow along each week as we feature MATTER startups creating solutions in mental health care.