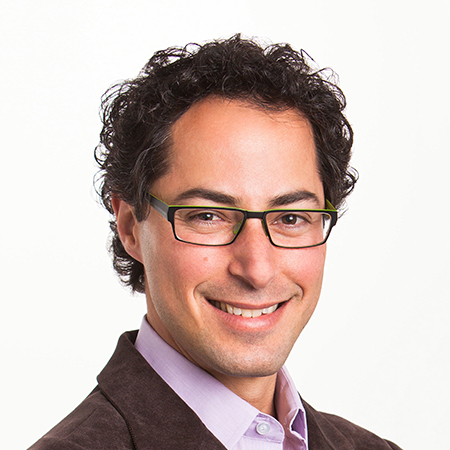 CEO Steven Collens on accelerating innovation through collaboration
CEO Steven Collens shares an update from MATTER, three years after opening its doors. This article was originally published in the September 2018 issue of Chicago Medicine.
Gastroenterologist Lawrence Kosinski had a problem. He would see his patients with inflammatory bowel disease (IBD) when they came in for appointments, but would lose touch with them between visits. Sometimes — too often, in fact — he would learn from a hospital that one of his patients had been admitted. His patients were, in his view, like submarines. They would surface in his office and then disappear for long stretches of time — periods during which he had no way of knowing how they were doing. He wanted the equivalent of a sonar system to keep track of them. Since nothing existed, he built it. He developed a system to help him connect with his patients, and called it SonarMD.
The problem Dr. Kosinski was solving was one that Blue Cross and Blue Shield of Illinois (BCBSIL) was interested in: On average, treating a patient with IBD costs BCBSIL $24,000 per patient per year. BCBSIL agreed to pilot Dr. Kosinski's solutions, experimenting with a patient management fee that is adjusted based on the cost savings generated by SonarMD.
The results were outstanding: Patients were admitted to the hospital less often, with the hospitalization rate dropping from 17% to 5%. BCBSIL saved, on average, $6,000 per person per year, for patients who responded to inquiries about their health at least 50% of the time. Today, BCBSIL will pay gastroenterologists across the state if they use SonarMD for their patients. Everybody wins: The insurance company saves money; the doctors are better able to do their jobs; and patients are healthier.
Dr. Kosinski is one of the entrepreneurs who are part of MATTER, Chicago's healthcare technology incubator and innovation hub. Startups like SonarMD are ushering in a new era of healthcare — moving us from the episodic, reactive system we have now towards a future state where care is proactive, predictive and personalized.
Innovations like this one happen best in collaborative environments, where people with shared passions can get together, bounce ideas off each other and learn from one another. It was with people such as Dr. Kosinski in mind that MATTER was developed.
MATTER's origin story
In 2013, under the auspices of Chicago Mayor Rahm Emanuel, a group of entrepreneurs came together to build a stronger healthcare entrepreneurial ecosystem. At the time, Chicago had a $50 billion medical technology industry, which included 91 hospitals, six medical schools, more than 500,000 healthcare jobs and nearly 60,000 students studying in a related field at local universities — not to mention a vibrant startup community.
Chicago did not, however, have a home for the healthcare community: the large companies were scattered across a wide urban and suburban area; the startups were spread across the city; and there was no community infrastructure to bring them all together to foster collaboration and innovation. Chicago was lacking the key ingredient for a successful healthcare innovation ecosystem: the ability for entrepreneurs to easily find mentors, advisors, investors and partners, and to access educational resources to build their skills.
In 2014, the State of Illinois provided $4 million to build a hub for the healthcare community. Civic leaders and area businesses came together to provide early operational support that allowed the project to get off the ground.
MATTER today
We opened MATTER's doors in February 2015 with 30 startup companies and a few programs, and have since grown to include more than 200 startup companies, 50 corporate partners and dozens of programs supporting healthcare entrepreneurship and innovation. Today, our startups range from those that are barely more than ideas, to companies with millions of dollar of revenue and dozens of employees.
All told, our member companies employ 2,000 people and have raised more than $500 million to fuel their growth. Their products — which span health IT, medical device, diagnostics and therapeutics — have been used by 100,000 clinicians and have benefitted more than 76 million people.
With MATTER's non-profit and no-equity model as a foundation, this community has evolved into a neutral platform where entrepreneurs can come together with industry leaders, scientists and clinicians to collaborate on developing next-generation healthcare and life sciences technologies. In 2017 alone, we hosted more than 500 programs, with topics ranging from human-centered design and entrepreneurial finance to healthcare cybersecurity and the social determinants of health.
Doing something that matters
MATTER's name was inspired by interviews with dozens of entrepreneurs. We found that, like all entrepreneurs, those in healthcare want to change the world, be their own bosses and participate in the economic upside that can come with entrepreneurship.
But unlike other entrepreneurs, those in healthcare tend to be in this field for very specific reasons. They have familial connections to the healthcare industry or have been touched in deeply personal ways by disease or other health-related circumstances. They are incredibly passionate not just about building businesses, but about building healthcare businesses that will make the world a healthier place. Most will not be satisfied building companies in other industries; they are passionate about doing something that matters.
What follows are a few recent examples of innovators in the MATTER community who have aligned these personal passions with their professional pursuits to solve meaningful problems in healthcare. Importantly, these are all stories of collaboration. Just as Dr. Kosinski teamed up with Blue Cross and Blue Shield of Illinois, these entrepreneurs teamed up with each other, and with large enterprises to develop novel healthcare solutions.
Teamwork creates a friendlier experience for surgical patients
Ten years ago, Tom Riley's mother was diagnosed with ovarian cancer. As she embarked on her journey as a cancer patient, Tom began his journey as her caregiver and advocate. The two quickly learned how challenging it could be to keep on top of the care plan and understand what symptoms to watch out for and when to escalate a concern to the doctor.
Tom didn't know it then, but his mother's journey would eventually become the inspiration for TapCloud, a healthcare technology startup he founded in 2013 to improve the substantial portion of the patient journey that happens in between doctor's visits.
At MATTER, Riley met Dr. Richard Vazquez, a general surgeon at Northwestern Memorial Hospital and founder of SafeStart Medical. SafeStart improves the surgical safety process, starting at the front desk and continuing all the way into the operating room.
Through a connection at MATTER, Riley and Dr. Vazquez learned about the Ontario Telemedicine Network's search for a one-and-done solution that could meet the surgical needs of 220 hospitals in the Canadian province. They then reached out to InTouch Health, a global telehealth company with capabilities to quickly implement and scale a solution of this magnitude. Individually, none of the companies involved had the technology to fully address the problems outlined in the request. But together, they had all the right pieces.
InTouch Health, SafeStart and TapCloud formed a new venture, InTouch Surgical, to combine their respective technologies — and they were selected as the solution of choice for the more than 220 hospitals in Ontario's 14 Local Health Integration Networks.
Stopping diabetes before it starts
Like many, HabitNu Founder Sindhu Rajan, PhD, has lost family and friends to diabetes. More than 90 million adults in the U.S. are at risk of developing diabetes. Without intervention, 50% of these adults will likely develop diabetes in the next five to seven years.
Rajan previously spent 12 years researching diabetes at Yale University and the University of Chicago. During this time, she grew increasingly frustrated by the lack of evidence-based support for people at risk for type 2 diabetes.
In 2015, she became one of the first entrepreneurs to join MATTER. With encouragement from our team, she started a National Diabetes Prevention Program (DPP) at MATTER, giving Chicagoans access to this research-backed support program for the first time. This project received early support from the American Diabetes Association and Advocate Heart Institute.
But with one-in-three American adults at risk of developing diabetes, Rajan knew she needed to scale — and to scale, she knew the DPP needed to grow beyond a pen-and-paper model.
Last month, HabitNu became one of only a handful of digital DPP solutions in the nation to receive full recognition from the Centers for Disease Control. This recognition is a big step: Now, HabitNu qualifies for reimbursement from CMS. As a preventive service, people with prediabetes can participate in the DPP program as a free benefit with no copay — and thanks to HabitNu's technology, the program can scale to reach the 90 million people who need it.
Advancing care and improving lives, together
Building a successful startup is hard. Building a successful startup in healthcare is even more difficult.
For startups like SonarMD, TapCloud, SafeStart and HabitNu, being a part of a community like MATTER can make or break a company's success. In this complex industry, the ability to not only access, but also build relationships with other entrepreneurs, innovators from established organizations, patient advocates and clinicians is one of MATTER's most important strengths.
---