CareSignal, Dina and Verto present COVID-19 solutions to health system leaders at MATTER showcase
On July 22, MATTER hosted the first virtual startup showcase of 2020. This event series spotlights startup members whose innovative solutions are advancing care in topic areas defined by MATTER's strategic partners.
At the event, CareSignal, Verto and Dina presented their solutions designed to help health systems bring patients back to their hospitals amidst the COVID-19 pandemic. MATTER's health system partners shared that their main priorities are finding technologies that help re-engage patients, manage the inflow of new patients while minimizing touchpoints, and establish that hospitals are safe places where, if people don't already have COVID-19, they won't get it.
To help address these challenges, MATTER startups presented their solutions to decision makers from three of MATTER's health system partners: Dr. John Pigott, chief innovations officer at ProMedica Innovations, Charlotte Gabet, innovation and simulation lab manager at Parkview Health, and Craig Anderson, director of innovation at Baycare. Following each presentation, MATTER CEO Steven Collens moderated a question and answer session between the startups and panelists.
Here are our key takeaways from the showcase. Responses have been edited slightly for length and clarity.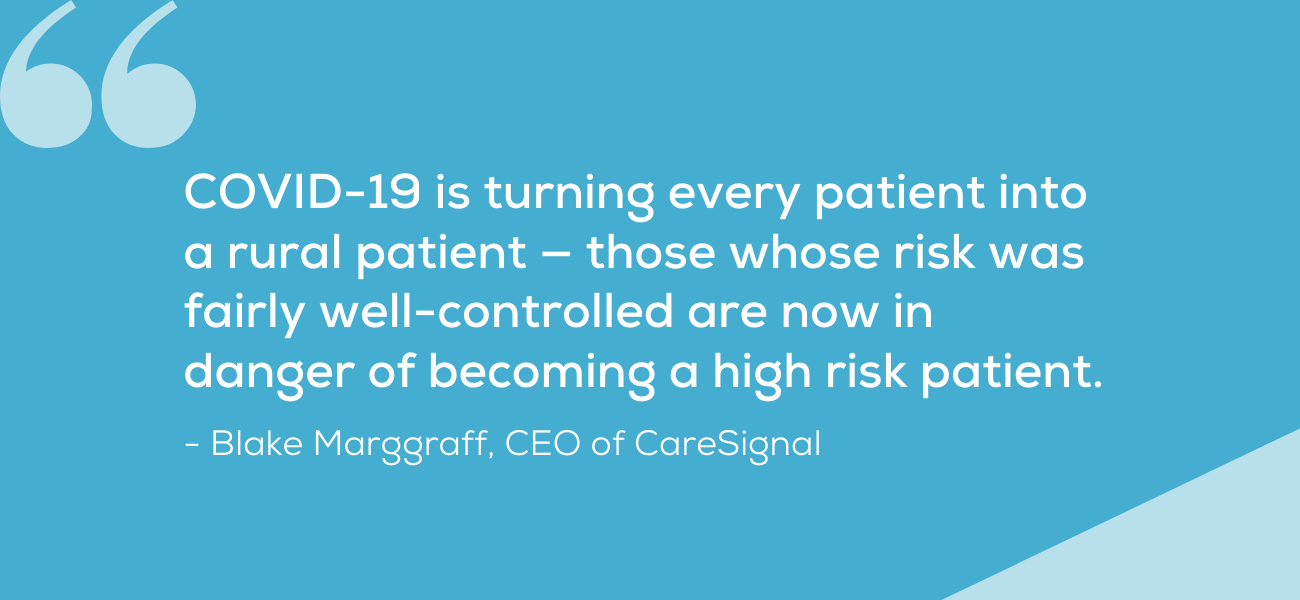 CareSignal
Blake Marggraff, CEO of CareSignal

What is CareSignal's mission?
To highlight key moments for life-changing intervention, accentuating care our partners provide.
How will CareSignal help hospitals bring back patients safely?
"CareSignal fits between two well defined categories: remote patient monitoring — the classic, device-based, expensive and scalable solution, and subclinical patient engagement — think birthday messages, screening reminders, and appointment scheduling and management. CareSignal has defined a new category: deviceless remote patient monitoring (RPM).
"Deviceless RPM is able to capture the same, and in many cases better, patient reported regenerative data than classic RPM at about a hundred times the scale, serving tens of thousands of patients at any given health system, and operating at far less than 10% of the cost per patient per month. Consequently, deviceless RPM helps health systems to scale.
"COVID-19 is turning every patient into a rural patient — those whose risk was fairly well controlled is now in danger of being a high risk patient. Rising risk patients cost everyone a lot of money, but most importantly, suffer from adverse outcomes. Through deviceless RPM, CareSignal takes the group of pre-stratified patients and captures patient-reported, real time data in order to categorize them as either part of the 99% of people who do not need intervention, or finding the 1% of people who need clinical intervention.
"That's an opportunity for recultivating the relationship between the patient and the provider, and of course, new revenue. Not to mention all of the benefits that come from better clinical outcomes in the long term."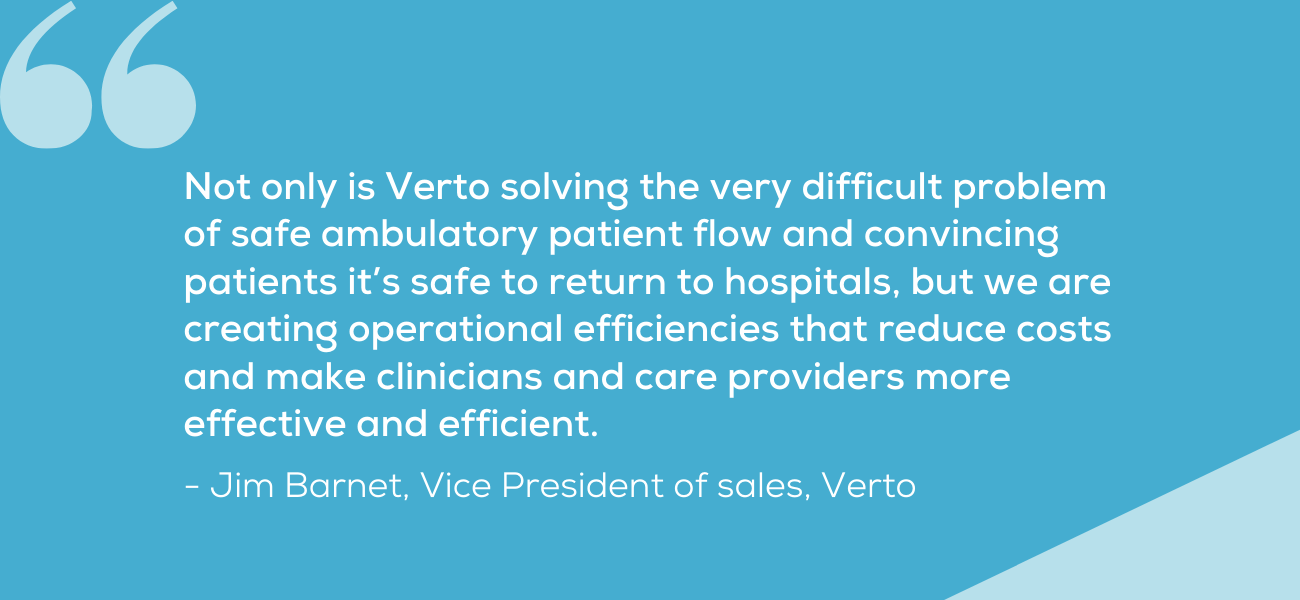 Verto
Jim Barnet, Vice President of sales at Verto

What is Verto's mission?
To unleash the power of clinical data through smart automations and personalization tailored for health team integration, virtual care delivery and patient activation.
How will Verto help hospitals bring back patients safely?
"According to a recent survey of the American College of Emergency Physicians, 70% of patients are scared to book elective procedures, and subsequently ambulatory care practices have seen a 40-70% decline in patient visits and revenue in the last 120 days. How do we enable safe, ambulatory patient flow to ramp up elective procedures and maximize capacity while convincing patients it's safe to return to our clinics in the COVID-19 world? Verto's solution provides safe patient flow connectivity and communication software to hospitals, clinic networks and long term care facilities.
"COVID-19 has made an already complex patient flow landscape significantly more complex. By automating, connecting and communicating across the entire ambulatory patient flow journey, Verto simplifies the journey. The most important aspect of Verto's solution is not that we're automating each of these different patient flow areas — it's that all the patient flow steps are linked. If there is a change or an update to the patient flow within the health system's location, everyone gets a real time update, whether you are a patient or a provider.
"Verto has three components: Verto Connect, which we use in conjunction with patented machine assisted learning in order to reduce the integration time with EMRs. Verto Flow, which provides safe patient flow pathways to give clinics a streamlined approach while keeping patients in the know. Verto Engage, which is our apps form builder, where we have best practice templates for COVID-19 surveys and registration forms. Customers can take those best practice templates and modify them in a few hours, or configure a new form from scratch in as little as eight to 12 hours.
"Verto is currently deployed in over 50 hospitals, clinic networks and long term care facilities with an average customer net promoter score 89 (industry average is 25)."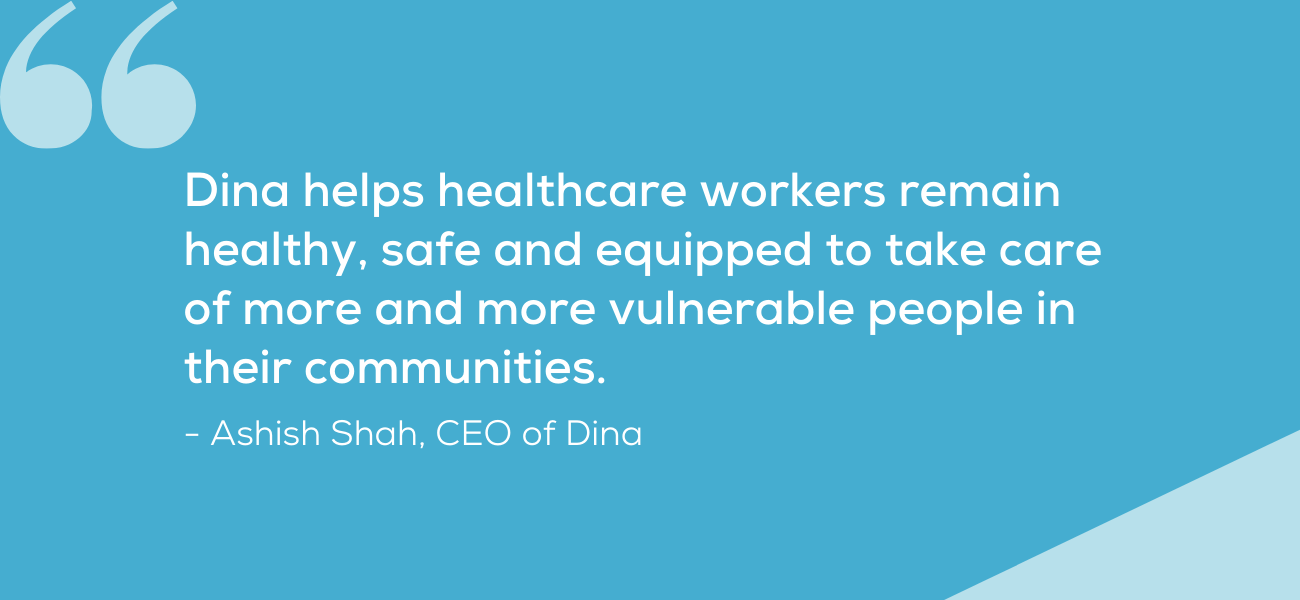 Dina
Ashish Shah, CEO of Dina

What is Dina's mission?
To a better life for aging adults through solutions that connect healthcare providers, caregivers, families and community resources.
How will Dina help hospitals bring back patients safely?
"Heightened by the COVID-19 pandemic, Dina's core business focuses on supporting the movement of healthcare at home. We have three solutions for health plans. The first is helping health plans better partner with their post-acute long term care and in-home care partners to extend the caregiving experience. The other two solutions are engaging patients and their families remotely, and supporting caregivers either in hospitals, long term care facilities or in home care settings and helping them stay healthy, safe and well equipped to take care of people in their communities.
"In mid-March, I got a call from one of our largest customers who was concerned about their patients being seen by in-home caregivers, as COVID-19 was spreading rapidly in New York. We quickly extended our platform, developing a system that screens healthcare providers for their risk and understanding if they are prepared to enter an acute care setting, a home health visit or a long term care facility. Then, behind the scenes, we activate AI to take them through automated care pathways that may coach them to stop their shift and wait for a call from their operational manager if they are symptomatic, or perhaps direct them to a telehealth visit or provide some selfcare coaching tips to help them operate at the top of their game.
"Starting with 150 people in New York City, this solution scaled up incredibly quickly due to the unprecedented demand. Ultimately, we created an employee health and wellness solution that engages healthcare workers before they start their shifts. Since implementing this solution in mid-March, we are about to pass one million digital screenings. We've expanded this solution to 29 states, improving availability and quality of care and increasing retention as patients can actually be cared for, as our frontline caregivers are protected."
Interested in connecting with one of the MATTER startups that presented? Email ventures@matter.health.