Marketing Associate
MATTER
How to make your healthcare innovation challenge application stand out: An interview with patientMpower
For startups, winning a healthcare innovation challenge or pitch competition can be the boost they need to grow their business. However, hundreds of startups apply to the same challenges each year — and often, businesses with great solutions fail to even make it to the final round of the challenge they applied for. So how do you make sure your application and pitch don't get lost in the noise?
Last fall, we talked to the winners of the Novo Nordisk Innovation Challenge to hear their advice for other startups applying to healthcare innovation challenges and competitions.
Now, with the launch of the 2020 Pulmonary Fibrosis (PF) Innovation Challenge with Three Lakes Foundation, we're expanding the series to share insights from another MATTER innovaton challenge winner: patientMpower.
In 2018, patientMpower won our very first PF innovation challenge with Three Lakes Foundation for their solution that enables people living with PF to better manage their condition through a mobile engagement platform. Since winning, they went on to further develop their platform and publish clinical trial results that validated its effectiveness in major international medical congresses. Their team has more than quadrupled since 2018 and their solutions are now being used to enable the ongoing specialty care of thousands of patients across the U.S., U.K. and Ireland.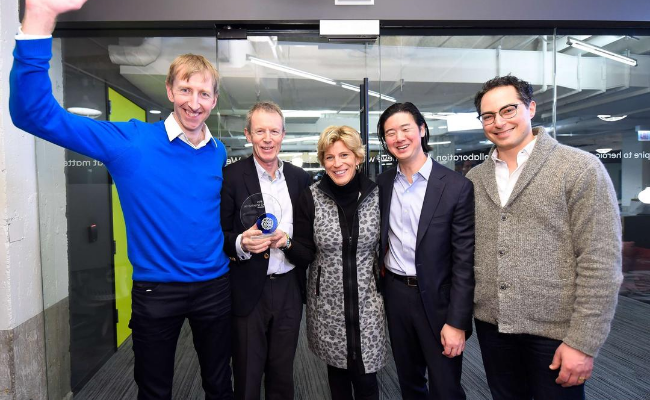 PatientMpower CEO and Co-founder Eamonn Costello with MATTER CEO Steven Collens after winning the IPF Catalyst Challenge in 2018.
Interested in applying to a healthcare innovation challenge or competition? Read advice from patientMpower's head of marketing, Amy Boulstridge:
Make sure the challenge is the right fit for you.
"Take a close look at the challenge and the submission criteria to make sure that your organization and your solution meets the needs of the challenge. As innovators and startups, we are usually very lean organizations and time is precious. If you fit the criteria but are wondering about the value of dedicating resources to respond to a challenge, we would strongly encourage you to apply. In our experience, we found the application process in itself to be very valuable in shaping our solution and our approach — and of course, you might win!"
Take a step back.
"As innovators, we are often focused on the details of our solution. When writing your application it can be valuable to take a step back. Your readers won't necessarily be experts in your particular area of technology, so communicating how your solution fits into the bigger picture is more important than ensuring that your reviewers understand every tiny aspect of your innovation."
Practice your pitch.
"One thing that really helped us was that once we had prepared our initial pitch, we practiced and practiced. We did dry runs of our pitch to anyone that would listen to us! This enabled us to get feedback from multiple viewpoints, so we were really able to refine both our content and delivery."
"You also need to remember to always start with your audience in mind. Having an understanding of their needs is key — everything else flows from that."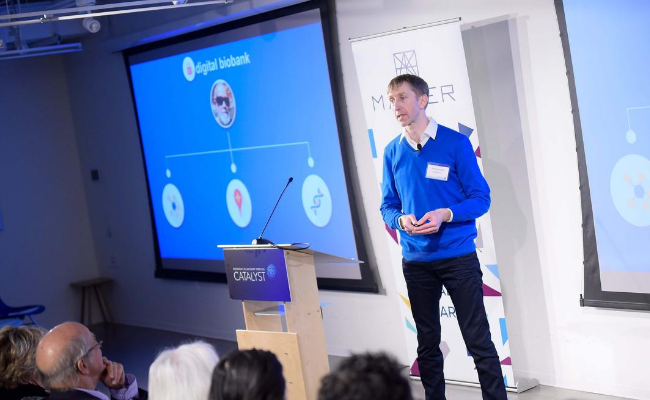 Eamonn Costello pitching at the IPF Catalyst Challenge final event.
The value of applying to a challenge.
"Winning the challenge in 2018 was a turning point in the evolution of patientMpower. Just participating in the challenge meant that we gained insights and feedback, made valuable contacts and built relationships that have been key to the development of our solution and our business. Winning was a real validation of our solution, and it was a significant marketing and public relations opportunity for a startup organization. It was also a real boost for our own personal self-belief and motivation. And this is all without mentioning the impact of actual monetary prize! This was crucial in allowing us to fund projects and develop features that have enabled us to help thousands of people living with PF to better manage their condition."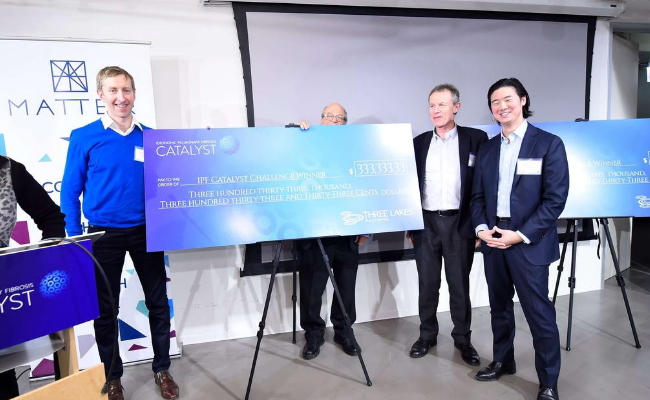 Eamonn and the patientMpower team after winning the challenge.
Want to hear more from patientMpower? Join us for a live virtual event on August 18 to hear CEO Eamonn Costello share more about patientMpower's challenge experience and learn about the 2020 PF Innovation Challenge.
Apply to our PF Innovation Challenge.
---