MATTER and Consulate General of Canada collaborate to help Canadian life science entrepreneurs enter U.S. market
Bringing a new healthcare product to market is no easy task. But bringing a new healthcare product to market in another country with a different health system, regulatory environment and business landscape can be an even more daunting challenge.
To reduce the friction of entering the U.S. healthcare market, MATTER and the Consulate General of Canada work together on a mentorship program to support Canadian life science and healthcare entrepreneurs, called the Canada-Chicago Mentoring Program (C2MP). Part of MATTER's Chicago Innovation Mentors (CIM), this six-month mentorship program helps Canadian entrepreneurs to refine their business development strategy for the U.S. healthcare market.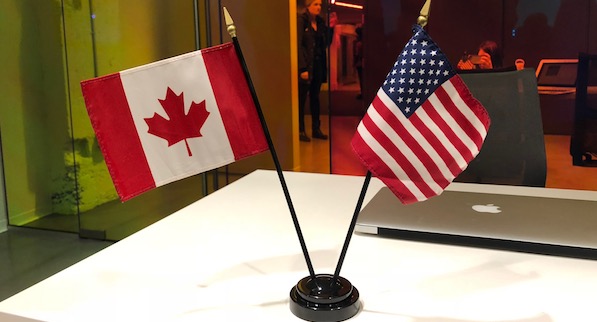 This year, five companies were selected following a competitive nationwide application process in Canada. The 2018 cohort kicked off the six-month program earlier this year with a "Day of Acceleration". The companies traveled to MATTER, where they met with MATTER member startups and partner institutions, and presented their ventures to the CIM mentor community.
Following the CIM model, the five companies were each matched with a team of five mentors with relevant expertise, who they will work with closely over a six-month period.
We caught up with a few of the Canadian companies in this year's C2MP cohort to learn more about their vision for advancing care and improving lives.
Alessandro Biglioli, CEO, Elsius Biomedical
Calgary, Alberta
Tell us about Elsius Biomedical's product.
Extracorporeal membrane oxygenation (ECMO) is an established life support technology that provides cardiovascular and respiratory support to very sick patients in a number of different situations and settings. ECMO is a life-saver; but in its current form, ECMO has some serious limitations: it's not easily transportable and manageable; it requires massive doses of blood thinners which carry serious side effects; the cost of 24/7 monitoring.
Elsius has developed a compact, easily deployable, transportable device with a biocompatible coating that significantly reduces the need for systemic blood thinners. This will result in more lives saved, less time patients spend under ECMO and ultimately reduce costs.
How will Elisius create change in healthcare?
Elsius' product is portable, so it has a greater number of applications, especially in emergency situations, compared to ECMO today. It also allows doctors to reduce the use of blood thinners significantly. These benefits create better outcomes for patients, shortening their stay in the intensive care unit and in the hospital in general. This technology will significantly abate ECMO providers costs and will allow doctors to treat a greater number of patients earlier in their journey, creating a virtuous circle of better outcomes and lower costs.
---
Lee Bowman, Director of Operations, Mediphage
Toronto, Ontario
Tell us about Mediphage's product.
Mediphage Bioceuticals is a genetic medicine startup developing phage-based therapeutic platforms to enable the future of gene delivery as a personalized approach to genetic medicine.
How will Mediphage create change in healthcare?
Mediphage's flagship product, DNA ministrings, is an efficient, customizable, and redosable gene delivery system capable of expressing a gene of interest safely and affordably, without compromising transfection efficiency. DNA ministrings have myriad applications, such as ex vivo and in vivo gene therapies, CAR-T, iPSC and therapeutic gene editing applications.
---
Simon Sanscartier, CFO, MYOVUE
Montreal, Quebec
Tell us about MYOVUE's product.
MYOVUE is a wirelessly connected medical device that aids in the diagnosis of Acute Compartment Syndrome (ACS). Its proprietary insertion mechanism allows easy, accurate placement of a small pressure sensor into muscle compartments. The sensor physically connects to an LCD screen, directly displaying highly accurate pressure values while resting on the patient's skin. MYOVUE is accompanied by a mobile app that connects to the medical device via Bluetooth and transfers pressure data to hospital cloud systems, allowing remote patient monitoring. MYOVUE solves an unmet clinical need for doctors who require a simple, reliable way to screen trauma patients for ACS.
How will Myovue create change in healthcare?
ACS occurs when muscle swelling exceeds blood pressure in surrounding tissue and cuts off blood supply to affected muscles, usually following high-energy trauma incidents. Currently, ACS is diagnosed based on subjective and unreliable outcomes like pain. Thus, far too often, trauma patients tragically sustain long-term disabilities and limb amputations because of missed diagnoses. MYOVUE transforms the standard of care for ACS from a reactive process to a proactive one. By providing timely monitoring of muscle pressure, MYOVUE helps doctors to reliably diagnose ACS and take action before it is too late. MYOVUE is a simple solution to a dangerous problem.
---
Stephane Gagne, President & CEO, Ovensa
Aurora, Ontario
Tell us about Ovensa's product.
Ovensa generates nanoparticle-based medications that improve the efficacy of chemotherapy and immune boosters in patients affected by brain cancer. Because of their ultra-small size and targeting features, these drugs can reach cancer cells, internalize their payloads and do their work with precision. Ovensa also applies its technology to other complex diseases such as Alzheimer's.
How will Ovensa create change in healthcare?
By focusing on diseased tissues while leaving healthy parts of the body unscathed, Ovensa's nanomedicine could result in much easier and effective treatments for individuals affected by cancer, reducing the severity of side effects and improving their quality of life.
---
Emile Maamary, CFO, Steadiwear
Toronto, Ontario
Tell us about Steadiwear's product.
Steadiwear has developed a glove that leverages vibration damping technology to intelligently stabilize the wrist joint in essential tremor and Parkinson's disease patients. Essential tremor and Parkinson's disease cause debilitating hand tremors that render the simplest daily activities such as eating and writing a real challenge.
How will Steadiwear create change in healthcare?
The Steadiwear glove will allow patients to go about their daily activities with significantly less frustration while allowing caregivers to be less hands-on. As a result, the patients can enjoy more independence and an improved quality of life.