MATTER Startup Spotlight: metaMe Health
Improving quality of life for people with gastrointestinal conditions
According to Harvard Medical School, emotions such as anger, anxiety, sadness and elation can trigger symptoms in the gut and vice versa. Due to this gut-brain connection, physicians have been using hypnotherapy to treat people with gastrointestinal conditions at a high success rate since the mid-1980s. However, since few practitioners are trained in this highly specialized technique, access to this valuable treatment has not been available to most patients.
MATTER member Danny Bernstein, founder and chief product officer of metaMe Health, is on a mission to make gut-directed hypnotherapy (GDH) more accessible to the 70 million Americans who live with digestive diseases. Read on to learn more about metaMe's prescription digital therapeutics and Danny's journey as a serial entrepreneur.
Responses have been edited for length and clarity.
MATTER: You've worked in a variety of industries from marketing to video game design. Why did you make the pivot to healthcare?
Danny: It started from an experience sitting at my mother-in-law's bedside. She had cancer and had 17 different drugs on her nightstand. I was overwhelmed by how her family had to manage her medications, which inspired me to start my first company focused on medication adherence in 2008. Helping people better manage healthcare issues became a passion.
In 2015, I turned my attention to inflammatory bowel diseases (IBD), such as Crohn's, and irritable bowel syndrome (IBS). This was personal for me because I've lived with both conditions for more than 45 years. When researching the space, I found that several treatments were not broadly available, and I wanted to help improve the lives of as many people living with these conditions.
My gastroenterologist, Dr. Stephen Hanauer at Northwestern Medicine, thought I'd be interested in learning how they treat IBS in the Digestive Health Center. So, I met with a gastro-psychologist at Northwestern, who explained GDH and other techniques that were being used in the field. Intrigued by the success of GDH and after a deep dive into the various options out there, metaMe licensed the protocol from its author Dr. Olafur Palsson, a professor at the University of North Carolina. Hypnotherapy based on this protocol has been successfully used to treat IBS for decades.
MATTER: Tell me more about the metaMe solution.
Danny: This year, we're launching Regulora®, an FDA-cleared prescription digital therapeutic mobile app that precisely follows Dr. Palsson's North Carolina protocol by providing seven 30-minute sessions of remote behavioral therapy using GDH that are administered over a period of 12 weeks. Prior to Regulora, GDH therapy would be provided only via a trained clinician predominantly in the few medical clinics that offered the treatment. With Regulora, video GDH treatment sessions are presented on your mobile device so it can be used anywhere.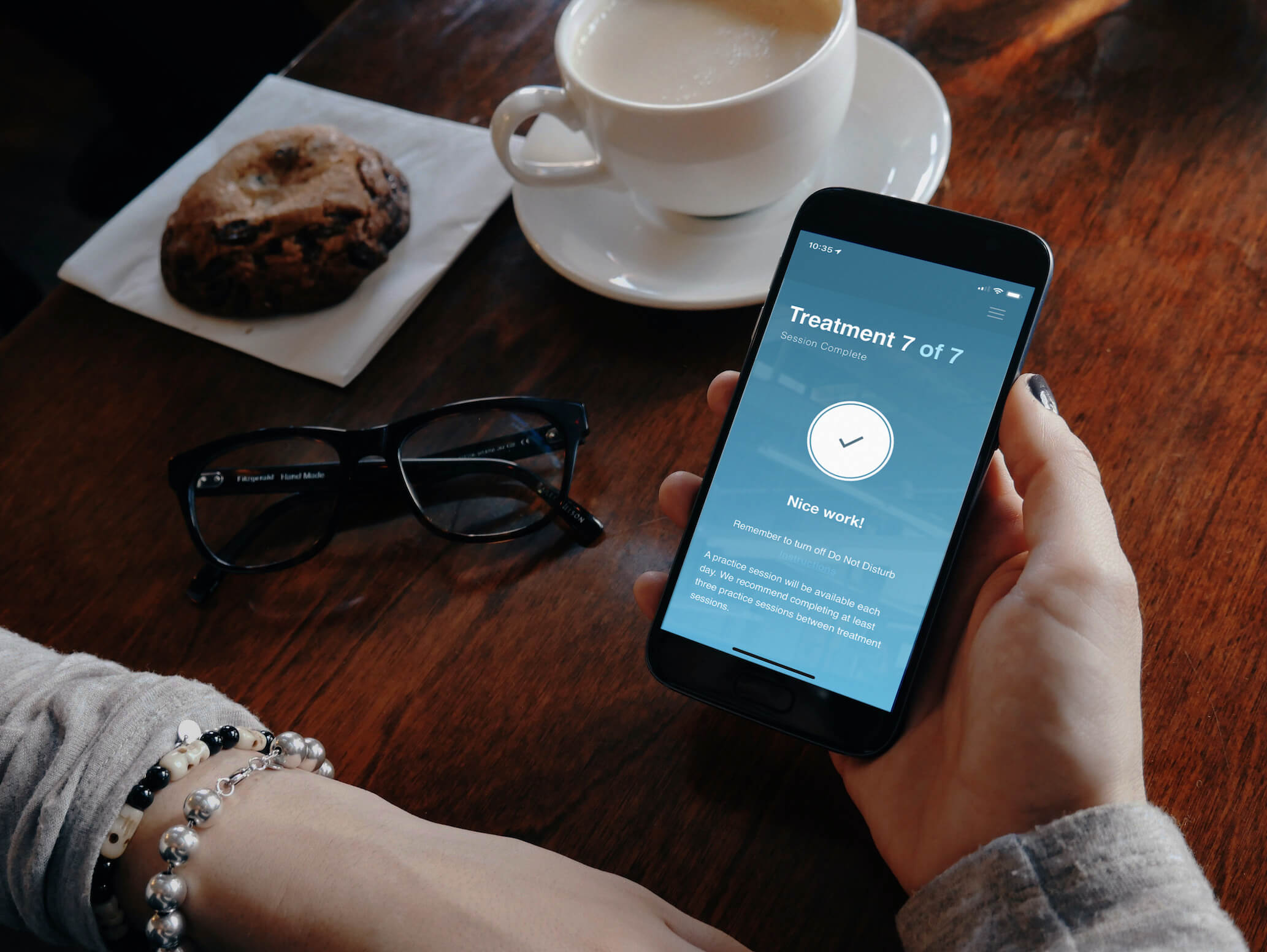 Launching Regulora will greatly expand the availability and convenience of GDH. A 380-patient randomized controlled trial of Regulora found that 68 percent of people reported overall satisfaction with the treatment, and 87 percent said they would recommend it to someone with IBS. These results are exciting and motivated us to acquire additional intellectual property for protocols that treat gastroesophageal reflux disease (also known as functional GERD) and ulcerative colitis.
It's been a great journey thus far because of the people on the metaMe team, and our progress is due to the work we've done together. Stay tuned to see how far a great team of people can go to improve the quality of life for the many people with gastrointestinal conditions.
MATTER: What have you learned along your journey as an entrepreneur?
Danny: There is no shortage of challenges. I have found that it's important to work on something close to me. Entrepreneurs face a rollercoaster of highs and lows. It's critical to have a baseline level of commitment to keep working through the lows and stay humble through the highs. Believing that the work can help other people is a great way to stay motivated.
MATTER: You've been a MATTER member since 2015. What value have you gained from MATTER over the past seven years?
Danny: MATTER has been valuable to getting metaMe started. First, I've taken courses in each of the different workshop modules. At one point, there was a joke that I had met with every mentor in the MATTER community! I really felt like I could learn something from each of these mentors.
Another part of the community that I enjoy is the engagement in MATTER's physical space. I received some of the most helpful guidance, feedback and opportunities when I paused from my work and spoke with other members about their solutions and journeys. I've made some wonderful friends from MATTER and have had the opportunity to watch their startups succeed after working diligently over the years.
For example, one thing I learned from a friend at MATTER is the Slicing Pie method for launching a company with limited cash resources. It was a great way to manage our burn rate at the very beginning and recruit the talents of people who had skills to advance the company.
---
About metaMe Health
metaMe Health, Inc. (metaMe) is a U.S. company that develops prescription digital therapeutics (PDT) for the treatment of common chronic conditions. metaMe's initial digital solutions aim to relieve the pain and disruption of everyday life experienced by millions suffering from gastrointestinal disorders. By allowing patients to be prescribed treatment confidentially and to undergo treatment privately at home, metaMe offers non-drug options that provide relief in a familiar, comfortable environment. For additional information, please visit metamehealth.com or follow @metaMeHealth on Twitter and metaMe Health on LinkedIn.
About MATTER
At MATTER, we believe collaboration is the best way to improve healthcare. The MATTER collaborative includes more than 700 current and alumni startups from around the world, working together with dozens of hospitals and health systems, universities and industry-leading companies to build the future of healthcare. Together we are accelerating innovation, advancing care and improving lives. For more information, visit matter.health and follow @MATTERhealth.