MATTER Startup Spotlight: Ready, Set, Food!
Introducing allergens easily and safely for babies
According to Food Allergy Research & Education, it's estimated that 32 million Americans have food allergies, including 5.6 million children. Fortunately, food allergies can be prevented through the continued introduction of small amounts of allergens early and often.
Daniel Zakowski, CEO of MATTER member Ready, Set, Food!, is dedicated to raising awareness of and educating parents on food allergy prevention. Ready, Set, Food! makes it simple for parents to introduce common food allergens to their children early to build tolerance and prevent severe food allergies as they grow up. We sat down with Daniel to discuss their solution and his journey as an entrepreneur.
Responses have been edited for length and clarity.
MATTER: What piqued your interest in healthcare?
Daniel: I've been surrounded by the medical arena for most of my life — out of all my sisters and brothers-in-law, I'm the only one who isn't a doctor. They inspired me to look for opportunities to help make healthcare more efficient and bring business ideas to the industry.
My first job out of school was starting a dental supply company. We sold everything from face masks to drill bits. Then, when my nephew developed a number of severe food allergies, I saw the opportunity to help prevent other infants from developing the same food allergies that affected my nephew.
MATTER: How did this personal experience and opportunity turn into Ready, Set, Food!?
Daniel: It wasn't just my nephew developing food allergies. Clinical trials were published showing that 70-to-80 percent of food allergies could have been prevented by frequently feeding small amounts of allergens to babies starting as early as four months of age. My brother-in-law is a doctor and heard about these trials, but my nephew wasn't ready to eat solid food at a young enough age to follow the new guidelines. By the time he was prepared to eat solid foods at about six-and-a-half months old, it was too late; he had an anaphylactic reaction the first time he ate a peanut. Every baby is different.
We saw a real need to make it easier for parents to feed allergens to their babies at the earliest time possible. That's when we developed Ready, Set, Food!
MATTER: Tell me more about how Ready, Set, Food! works.
Daniel: We started with a powder consisting of allergens that dissolve in a bottle of breast milk or formula that parents can feed to their babies daily. The powder comes in numbered packets that can be poured into a bottle, shaken a few times and given right to a baby. This makes it fundamentally easier to introduce allergens to babies rather than putting scrambled eggs into a blender with breast milk — just one of many ways a parent may try to prevent food allergies in their children.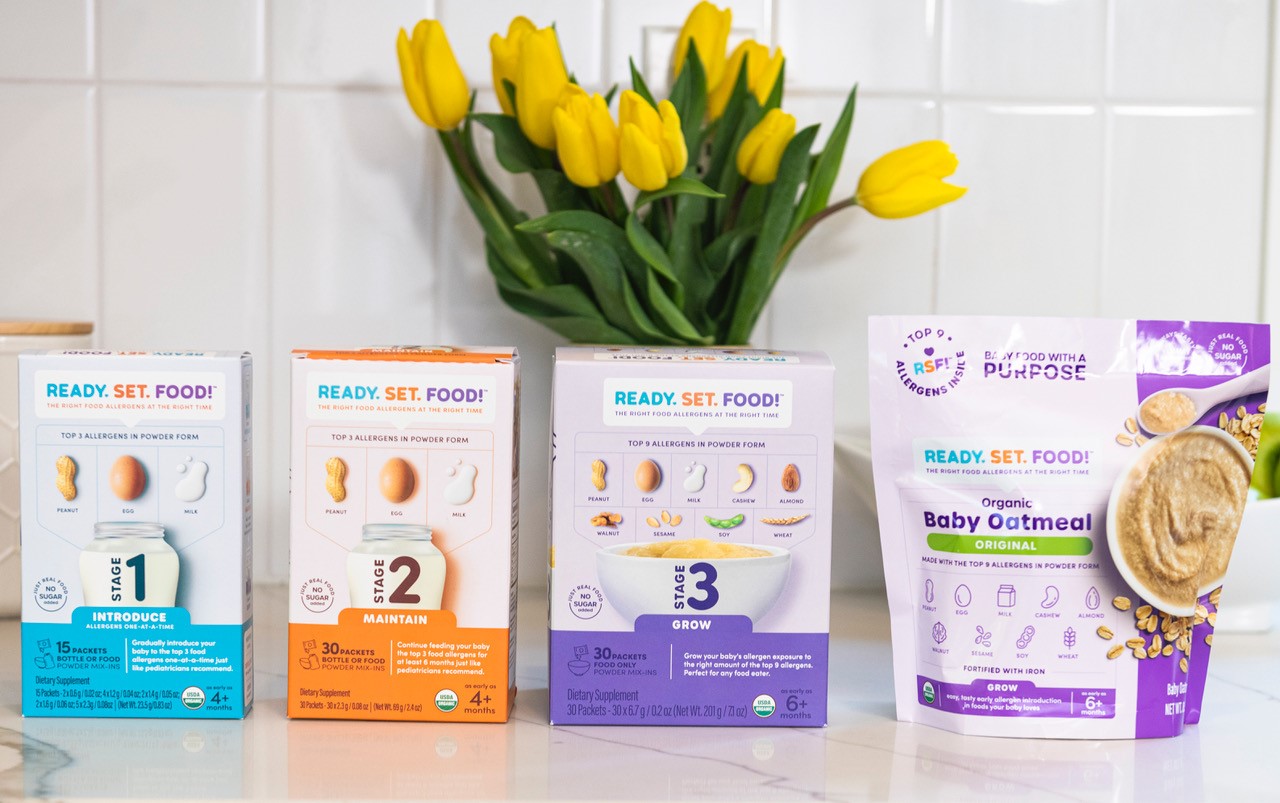 MATTER: What results have you seen?
Daniel: We've now seen over 25,000 parents using our product and over 95 percent of them use it for at least three months. The fact that parents are using it with their babies and showing good compliance means that our product really is making it easier for parents to follow medical guidelines.
Also, we raised a Series A round in January that was led by Johnson & Johnson Innovation – JJDC, Inc and Providence, demonstrating strong acceptance with the medical community, which is incredibly important for us in helping educate new parents about food allergy prevention; last year, only 10 percent of parents knew about food allergy prevention.
Our partnership with Providence enables us to educate 80,000 new parents who have babies born at their hospitals each year about food allergy prevention. Our white-labeled educational material is embedded in their EMR, handouts and offices and are now being used in an automated fashion with four-to-eight touchpoints for each parent who goes through the Providence system. We've even rolled out similar programs through digital solution partners and other healthcare providers, including Baylor Scott & White.
MATTER: What have you learned through the fundraising process that you would share with other entrepreneurs?
Daniel: It's really about looking for partners who have a similar focus and interest as you. When we look at the investors who've been our best partners, they have real interests in baby wellness and are focused on some combination of baby products and solutions that materially help babies live healthier and happier lives.
These investors understood our vision more so than a traditional VC firm or even many healthcare systems whose investment areas focus on other topics. Entrepreneurs who are looking to start fundraising should look for investors that see your vision and thus have ways to help you and partner with you to advance your cause. That's what has made these investors a good fit for us and have enabled them to continue to add value on an ongoing basis in a way that's going to help the category grow.
MATTER: What value have you gained from being part of the MATTER community?
Daniel: MATTER has such a great ecosystem of healthcare advisors. MATTER mentors have been instrumental as we think about how to appropriately structure and make the most of our partnerships with healthcare systems.
In the long run, we see a real opportunity with MATTER to further the development of our healthcare strategy. We have the potential to address health inequities and also grow our footprint with and deliver very strong ROI to payers, all through the prevention of food allergies.
If you're interested in learning more about how Ready, Set, Food! is tackling food allergies, visit www.readysetfood.com.
---
About Ready, Set, Food!
Founded by doctors and parents for parents, Ready, Set, Food! has created the only complete, three-stage guided system that allows families to introduce the top food allergens to their babies safely and easily. Ready, Set, Food!'s approach is backed by thousands of pediatricians and allergists and is rooted in the latest science and medical guidelines that recommend food allergen introduction should start as early as 4 months of age.
In addition to offering a product line that includes Stage Mix-ins and Organic Baby Oatmeal, the organization works to empower and inform families so they can prepare their children for a path to food freedom. Using educational content developed by nationally recognized food allergy experts, Ready, Set, Food! offers content and resources directly to families and through partnerships with health systems and pediatricians. For more information, please visit readysetfood.com or follow us on Facebook, Instagram, Twitter and LinkedIn.
About MATTER
At MATTER, we believe collaboration is the best way to improve healthcare. The MATTER collaborative includes more than 700 current and alumni startups from around the world, working together with dozens of hospitals and health systems, universities and industry-leading companies to build the future of healthcare. Together we are accelerating innovation, advancing care and improving lives. For more information, visit matter.health and follow @MATTERhealth.