MATTER Startup Spotlight: Scripted
Empowering pharmacists to improve the lives of their communities
Most Americans live within five miles of a pharmacy, according to the Centers for Disease Control and Prevention. So, why haven't we leveraged pharmacies to equitably expand access to healthcare? MATTER member, Scripted, has taken on the challenge and is succeeding — very rapidly.
Scripted Founder and CEO James Lott sat down with MATTER to share the Scripted story and his entrepreneurial journey. Read on to learn how Scripted is enabling people to skip the trip to the doctor and receive same-day care and prescriptions from their local pharmacies.
Responses have been edited for length and clarity.
MATTER: Can you share your background and how you became an entrepreneur?

James: "I'm a pharmacist by training; I worked on the floor giving shots to patients, and I loved my job. I got promoted to a pharmacy manager and worked in historically marginalized communities. And that's where all this started. I took my job very seriously, and I realized that patients came to the pharmacy before their doctor and tried to solve their own healthcare needs. Once I built relationships with these patients, they started asking for my advice on different health conditions, and I realized there were things I could have been doing and I wasn't.
"Once I built relationships with these patients, they started asking for my advice on different health conditions, and I realized there were things I could have been doing and I wasn't."
"One day, a man came into the pharmacy, asking what he could use instead of an asthma inhaler since his was out. I told him, 'The best option is to go to the doctor and get an inhaler.' He said he couldn't afford it because he didn't have insurance. I recommended an epinephrine inhaler, which isn't great, but it was his only other option. On his way to grab it from the aisle, he collapsed. I ran in the back, grabbed an inhaler — illegally — and gave it to him, saving his life. I was later able to give him a prescription for the inhaler, but that was also illegal. I thought to myself, 'That's silly. If I know he has asthma, I should be able to write him a prescription for an inhaler.' That changed everything for me.
"Eventually, I went back to school at the Harris School of Public Policy at the University of Chicago, and while there, I entered the Polsky Center for Entrepreneurship and Innovation's New Venture Challenge. At the time, I was trying to address the opioid crisis and actually made some good progress. My partner and I started naloxoneexchange.com as a way for people to order Narcan or Naloxone, the opioid overdose antidote, online and get it shipped to their homes.
"Then, a large pharmacy chain heard about us in the press and asked us what our plans were, and we told them that we were going to get more drugs to more people online. They thought our approach was innovative and recommended we switch our business model to enabling pharmacists to prescribe medication at a local level in stores and in turn solve a big problem in healthcare while promoting equity and access."
MATTER: How does the Scripted solution work?
James: "People can find us in three ways: first, they can scan a QR code on a big board at their local pharmacy that says something along the lines of 'Skip the trip to the doctor. Your pharmacist can prescribe.' Second, they can go to our website, scripted.co. Lastly, they can walk up to the pharmacy counter, and the pharmacist can add them to the system and send them a request.
"This is how it works: say someone has a urinary tract infection (UTI) and needs an antibiotic. They can go to scripted.co, enter their zip code on our pharmacy locator, book a consultation at one of our pharmacies and answer a questionnaire before their consultation.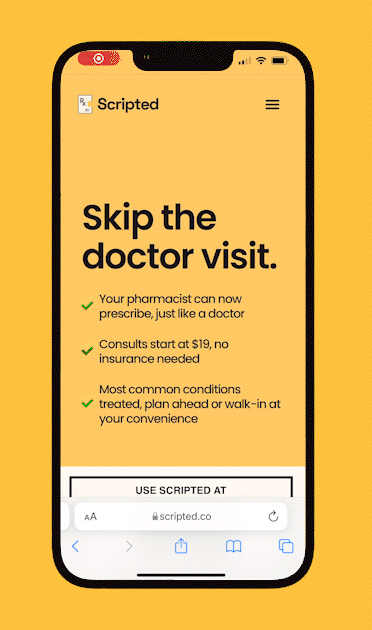 "Once they fill out their form, the pharmacist logs in to their portal. They get notified and can easily review all the questions that the person has answered. Keep in mind that pharmacists are busy, so we built in clinical decision-making support to make this process quick and easy. If the person with a UTI answers that they have a complicating condition, such as a missed menstrual period, that might be irregular. Scripted will let the pharmacist know that the missed menstrual period could be due to a contributing factor such as recent surgery or menopause. Pharmacists can then use this to inform their decision of whether to write them a prescription or refer them to a physician.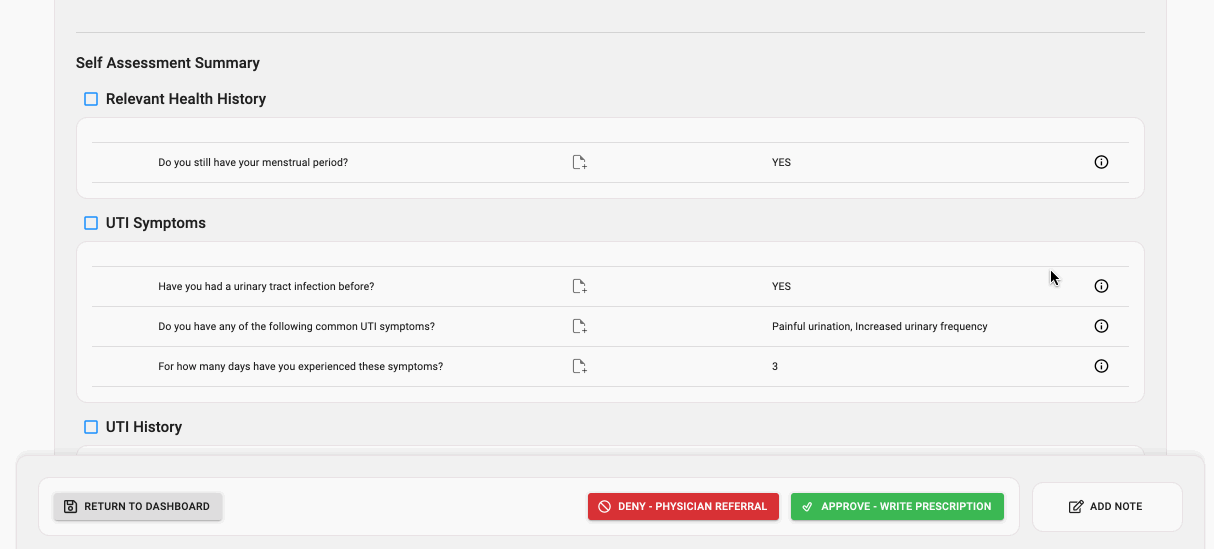 "If the person is in the right condition to receive the antibiotic, the pharmacist could easily write them a prescription in the platform, and that information is automatically faxed to the patient's primary care doctor.
"This is what we feel the future of healthcare should be: providing acute, non-urgent care for common conditions at the pharmacy rather than at the ER where it may cost thousands of dollars. Ninety-three percent of Americans live within five miles of a pharmacy, so why don't we have pharmacists practicing at the top of their licenses? They're all doctors, they went to school for six-to-eight years, they studied subjects such as biology and chemistry and they have an additional four years of expertise on drugs — they're the drug experts. Let's upskill pharmacists and prepare them for this work so they can make their communities healthy and save the healthcare system money."
"Let's upskill pharmacists and prepare them for this work so they can make their communities healthy and save the healthcare system money."
MATTER: How does Scripted compare to similar solutions?
James: "We are the turnkey solution. There are other solutions out there, but they're fragmented — they might only be focused on streamlining reimbursement or workflow or connecting patients with a physician.
"We do everything so that these pharmacies can move faster and offer these services sooner. Patients visited pharmacies more than they ever have because of the pandemic, so we know patients are willing to go to the pharmacy and that pharmacists want to provide more services and keep patients' attention. Pharmacists don't want to wait five or 10 years for this to be figured out — we're going to get them to where they want to be sooner."
MATTER: What results have you seen thus far?
James: "Our first patient was a 41-year-old woman, and she knew she had a UTI. She went to her local doctor's office in a small town in Idaho, but she didn't have an appointment. They acknowledged it'd be a quick appointment, but they couldn't see her for three weeks because they were booked.
"So she went to her local pharmacy and found an over-the-counter solution. She asked the pharmacist if the medication she'd chosen would help at all. The pharmacist responded, 'It might help a little, but we actually just signed up for this new service, Scripted. Why don't you scan this QR code and answer a few questions. If you're eligible, I can then write you a more effective prescription for an antibiotic and check on you over the next couple of days. You'd pay us a small fee and be on your way.'
"The patient completed the form and found out she was eligible. The pharmacist wrote her a five-day course of antibiotics. She paid 39 dollars and went on her way. This is how healthcare should be — simple. The question is: how can we expand that type of experience and access to every zip code in the United States?"
"This is how healthcare should be — simple. The question is: how can we expand that type of experience and access to every zip code in the United States?"
MATTER: What challenges have you faced when building Scripted?
James: "We are currently working through a sustainable business model. There are 48 U.S. states that have some language around pharmacists providing care for common conditions, but that doesn't mean they're actually going to adopt the model. In many states, there needs to be an agreement between the pharmacist with the physician to sponsor and oversee the program on a monthly basis.
"Also, say a large pharmacy wants to train 100,000 pharmacists to provide this kind of care. Are they going to pay for it? Or, is the patient going to pay for it out of pocket? We're trying to figure that out. We're talking to payers and proving to them that the Scripted solution will save them money and increase access to care for their members. On top of that, we also have to market it to patients. These challenges are some of the reasons why this hasn't been done before.
"That said, our whole team takes so much pride in what we do, and it might have taken a while, but it's starting to show that we thought about this the right way. We tried to tackle as many difficult problems in the community as we could, and our customers are helping us solve the rest. We're honored to be doing something that's going to positively affect healthcare."
MATTER: What value have you gained from being part of the MATTER community?
James: "MATTER's network is really strong, and I've met some great people through it. I can point to at least two to three of our hires that came indirectly from people we met through MATTER. We've also seen great value from MATTER's mentors. MATTER is a community that gives entrepreneurs the resources that they need."
---
About Scripted
Scripted is a platform that enables pharmacists to prescribe directly to patients for common conditions. Scripted's digital marketplace connects patients in need of non-urgent care for common conditions with in-person pharmacy providers able to prescribe directly for as low as $19. Scripted is developed by Script Health, a health tech startup that aims to provide easy access to essential and life-saving treatments.
About MATTER
At MATTER, we believe collaboration is the best way to improve healthcare. The MATTER collaborative includes more than 275 cutting-edge startups from around the world, working together with dozens of hospitals and health systems, universities and industry-leading companies to build the future of healthcare. Together we are accelerating innovation, advancing care and improving lives. For more information, visit matter.health and follow @MATTERhealth.