Venture Acceleration Manager
MATTER
MATTER startups surpass $1B in financing
MATTER startups collectively raised $175 million in early 2019, bringing all-time funding to over $1 billion.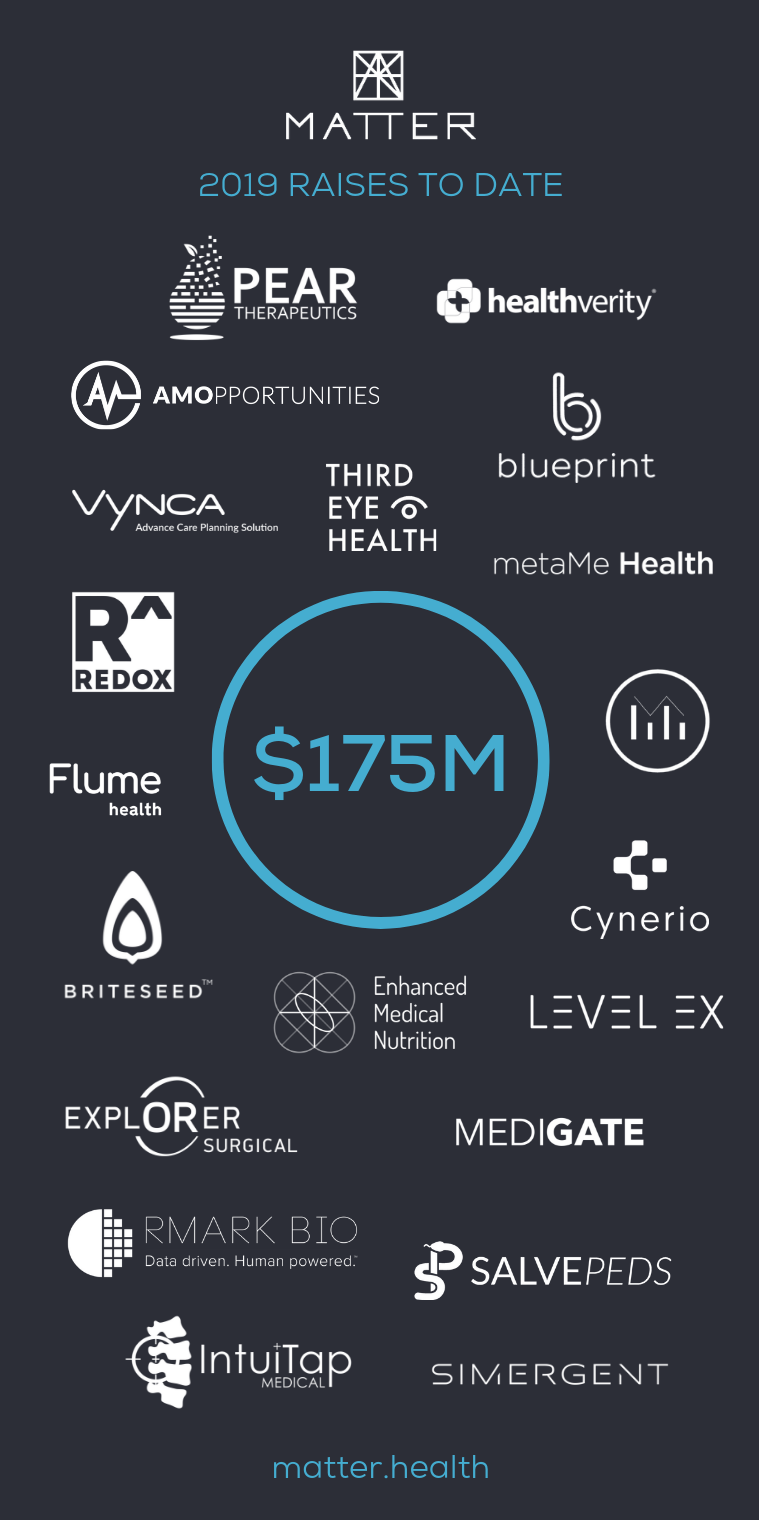 Several startups — including Pear Therapeutics, HealthVerity and Redox — closed financing rounds exceeding $25 million. Here's the month-by-month breakdown of the raises that were publicly announced so far in 2019:
January 2019
Pear Therapeutics — $64M

Pear Therapeutics develops clinically validated digital therapeutics to provide better outcomes for patients, smarter engagement and tracking tools for clinicians, and cost-effective solutions for payers. In January, they raised $64 million in Series C financing and announced the initiation of a proof of concept study for their prescription digital therapeutic for schizophrenia.
Cynerio — $7M

Cynerio provides visibility into all clinical assets on the IT network, detects anomalies and stops the threat to ensure patient safety and data protection. They raised a $7 million seed round to drive U.S. market development.
Third Eye Health — $7.25M

Third Eye Health provides nurses with virtual, 24/7 physician-sourced guidance on how to treat patients in place rather than calling an ambulance. This telemedicine startup raised $7.25 million in Series A financing.
Medigate — $15M

Medigate has developed a smarter way to identify, manage and protect IoT devices on clinical networks. They closed a $15 million Series A to accelerate growth.
---
February 2019
AMOpportunities — $2.2M

AMOpportunities arranges U.S. clinical experiences for non-U.S. medical students and graduates. They raised $2.2 million in Series A financing.
IntuiTap — $225,000

IntuiTap has developed the world's first device designed to eliminate the guesswork, frustration and pain from spinal punctures. This Houston-based medical device company was awarded a $225,000 grant from the National Science Foundation.
rMark Bio — $1.5M

rMark Bio collaborates with life sciences companies to deliver products that align with company imperatives and address today's issues of working with data, machine learning and compliance. They raised $1.5 million in seed round funding.
Ilerasoft — $200,000

Ilerasoft has created a new standard in healthcare: the Efficiency Score, similar to a credit score, for medical equipment. They won $200,000 from the Metropolitan Economic Development Association's challenge for minority entrepreneurs.
Enhanced Medical Nutrition — $1.2M

Enhanced Medical Nutrition develops and commercializes medical nutrition to help patients prepare for surgery and promote better and faster recovery after surgery. This Canadian life sciences organization raised a $1.2 million seed round.
---
March 2019
HealthVerity — $25M

HealthVerity offers a cloud-based platform to discover, license and link HIPAA-compliant and de-identified healthcare data. They raised $25 million in Series C funding led by Foresite Capital.
Flume Health — $4.05M

Flume Health is a digital third-party administrator committed to helping self-insured employers to optimize and make the most of the health insurance benefits they offer their employees. This New York City-based startup raised a seed round of $4.05 million from Primary Venture Partners, Founders Collective, Accomplice, ERA and other angel investors.
Level Ex — $4M

Gamification meets surgery at Level Ex. They've developed industry-leading mobile, AR and VR games for physicians using state-of-the-art video game technology and cognitive neuroscience expertise. Level Ex closed a $4 million round of venture funding.
---
April 2019
Redox — $33M

Redox is simplifying data sharing in healthcare by creating a seamless flow of patient data from one provider to another. They closed a $33 million round of Series C funding led by Battery Ventures.
ExplORer Surgical — $5M

ExplORer Surgical is a cloud-based "digital playbook" that promotes streamlined teamwork and best practices in the operating room. They raised $5 million in financing led by Aphelion Capital, the venture firm that also led ExplORer Surgical's $3 million Series A round back in 2017.
Simergent — $3M

Simergent is developing a home dialysis machine to deliver safe and effective peritoneal dialysis therapy to end-stage renal disease patients. The startup raised $3 million in their seed round of financing.
Blueprint (formerly HelloJoy) — $1.3M

Blueprint is a cloud-based platform for psychiatry and psychology clinics to more efficiently practice measurement-based care. They raised $1.3 million in their latest round of funding led by Hyde Park Angels and Lightbank.
---
May 2019
Briteseed — $669,000

Briteseed is committed to developing the next generation of laparoscopic and robotic surgical tools that provide real-time detection of hidden blood vessels and other sensitive structures using advanced optics and artificial intelligence. The company was awarded a $669,000 grant from the National Institutes of Health (NIH) to advance their mission.
metaMe Health — $240,000

metaMe Health develops FDA-cleared digital therapeutics for the treatment of gastrointestinal conditions. The company received a grant from the NIH for more than $240,000 to perform real-world testing on the company's metaMe Connect digital therapeutics platform.
Vynca — $10.3M
Vynca develops technology that ensures a patient's future care preferences are known and honored at end-of-life. With this additional investment, Vynca will focus on expanding its presence across the United States while building on its current presence in 11 states, and serve as the national single source of truth for advance care planning documents.
SalvePeds — $25,000

SalvePeds is revolutionizing a new treatment of diabetic ulcers. This pharmaceutical startup won the seventh annual BioCrossroads New Venture Competition, landing them a $25,000 cash prize.
MATTER brings together a global community of more than 200 cutting-edge startups with dozens of hospitals and health systems, universities and industry-leading companies to solve the right problems in the right ways. Our venture acceleration programs help entrepreneurs at all stages build financial models, speed product development, raise capital, secure pilots and scale their businesses.
Build your healthcare startup with us.
---