Asked and answered: 2019-20 Novo Nordisk Innovation Challenge
On November 5, innovators gathered at MATTER to network, learn more about Novo Nordisk's commitment to reaching zero environmental impact and ask questions about this year's Novo Nordisk Innovation Challenge, which focuses on the development of more sustainable insulin injector pens.
The event started with a conversation featuring MATTER CEO Steven Collens and Kenneth Strømdahl, senior vice president for device R&D at Novo Nordisk. They discussed the steps Novo Nordisk is taking to reach their sustainability goals, and how collaboration with startups can help speed the development of new solutions.
"We're not just building our own legacy [anymore], said Kenneth, "We can try to build everything ourselves — or we can tap into the expertise of the broader community. We chose the latter." Stay tuned for more of Kenneth's thoughts on sustainability at Novo Nordisk in a later blog post.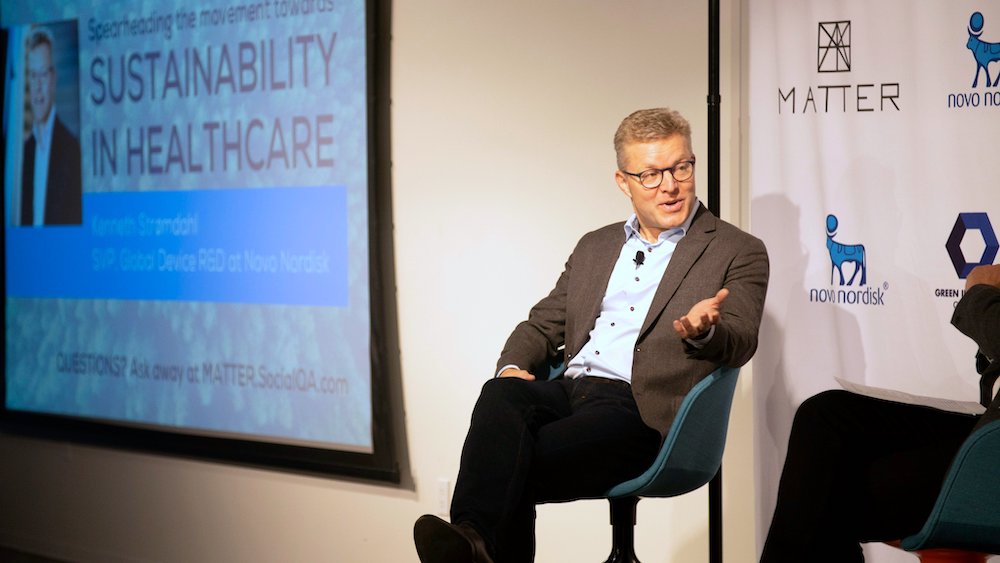 Following the fireside chat, Kenneth was joined by Andrea Baccenetti, open innovation project manager at Novo Nordisk to talk more about the challenge and answer questions from the MATTER community. In case you missed it, here are some of the top questions and answers from that session.
Why did you choose sustainability as this year's challenge focus?
Novo Nordisk has 29 million patients globally, many of whom use pre-filled insulin injector pens. These pens are designed to be patient-centric, with ease-of-use as a top priority due to the often complicated dosing requirements for people with diabetes. We produce more than 1,000 of these pens per minute — and currently, most of them end up in landfills.
This is about the future and a growing demand from our patients and payers. If we don't do anything, we may save in the short term, but will lose in the long term.
Specifically, which sustainability problems is Novo Nordisk trying to solve through this challenge?
There are two aspects to this challenge.
The first is circular design: We're looking to challenge the life expectancy of our products, we're challenging the materials used in the manufacturing of these products and we're also taking into consideration the production process. Can we design them in a way that consumes less material? A change in just one part of this process, like the pen cap alone, would make a huge impact.
The second is recycling: Once these products end up in the hands of our patients, how can we design processes that are patient-centric but allows us to collect them for reuse. For example, can we reuse the pen cap?
Does making your products more circular have a patient requirement?
We believe that there should be no additional burden on the patient. Our products will need to be at least as good as the solutions we have on the market today, with the additional provision of having circular design.
What sorts of materials or device alterations have you already considered?
Reusable plastic is an option today for many products, and Novo Nordisk is looking into what grade of reusable plastic we can identify and buy today — but there are very high requirements of our plastic. One of the major challenges in the industry today is that when you recollect all of these different types of plastic, you end up having to blend them all together, and the result is a very low-grade product. We're still on the lookout for something that is pharmaceutical grade and similar quality to our current materials.
Another type of plastic we're looking into is bioplastic, which is still plastic, but the source is organic materials instead of fossil fuels.
You can also make devices durable — ones that last for three or four years — and you simply exchange the cartridge once it's empty. They are, of course, more expensive. So there would need to be a new reimbursement model, and that's why there's space between durable and disposable devices today. However, we are certainly open to this as a solution. Much of our business model is based on prefilled devices, so that might be something we need to consider changing in the future. We also need to think about our competitors and ease of use. But we believe that we can make brilliant and durable devices if we need to.
What are the major parameters and regulatory framework in regards to the design of these materials?
Novo Nordisk has over 100 requirements that we have to live up to today for packaging. There are many parameters: Design control, safety and risk management and human factors are crucial. We must also live up to ISO quality management certifications like any other company in this space.
What are the challenges in developing take-back solutions for these pens?
Environmental legislation is different from country to country and even from state to state. We're taking a global approach to this problem, but we obviously need to adapt to regulations in each location.
How mature should solutions be?
Although we welcome all types of applications, this year we're specifically targeting mature startups that will allow us to start collaborating and piloting immediately.
Will this challenge also address other areas outside R&D like marketing or commercialization?
This is not just an R&D exercise. Of course, R&D comes up with the technical solutions to this problem, but there are many questions about how we enter the marketplace: What are the channels in which we sell our drugs, and what are our current agreements with payers. What is being reimbursed? What isn't being reimbursed?
We can't just come up with a solution which R&D feels is ideal. We need to thoroughly investigate this from every angle, and in close collaboration with other areas of the organization.
How do participants benefit from this challenge?
Novo Nordisk markets its products in over 170 countries and is the world's largest producer of insulin. The biggest benefit to participants will be the opportunity to sit down with Novo Nordisk's team of leaders and mentors to actually co-develop the solution.
What happens after applications close on December 13?
We're going to spend December selecting the top candidates for a virtual pitch event, where select leaders from Novo Nordisk, MATTER and Green Innovation Group will choose three to five winners that will collaborate with us.
In January, will begin a 12-week accelerator program, with some of the activities taking place at our headquarters in Copenhagen. Finalists will have the opportunity to meet with mentors and Novo Nordisk executives, exchange information and work through the program to identify the best ways to partner with us. Some finalists will have the opportunity to begin piloting some initiatives. The accelerator will culminate in a demo day on April 23 in Copenhagen, where we will declare a challenge winner.
Can I access the design framework?
Yes. Find it on the challenge website here.
Applications for the 2019-20 Novo Nordisk Innovation Challenge are due at 11:59pm Central European Time on December 13. Apply here.
Other questions? Read the challenge FAQ or email NN@matter.health.