The business case for a circular medtech sector
An executive summary of MATTER and Green Innovation Group A/S white paper on circularity in healthcare
The effects of climate change — perhaps the most complex issue facing modern society — influence every aspect of human life, including health on an individual and societal level. There is a growing awareness that both public and private actors need to move quickly and decisively to address the severe environmental challenges we are seeing on global scale.
Despite being relatively overlooked in the public debate around increasing pollution rates and environmental damage caused by corporations, the global medtech sector is not only a significant contributor to climate change, but emits 13 percent more greenhouse gases than the automotive industry (despite being 28 percent smaller).
90 percent U.S. of households put their unwanted medicines in the regular trash bin or water stream.* In the U.S. alone, an additional 50,000 tons of waste per year is estimated to be generated from home healthcare products.** Each year, organizations like Novo Nordisk build and distribute millions of insulin injector pens worldwide – many of which are not fully recyclable and can take up to 100 years to decompose. For a sector whose main responsibility is to improve health, decelerating and reversing environmental threats should become a primary focus.
Sustainable solutions in medtech have the potential to not only reduce greenhouse gas emissions, but also to address a range of important issues related to pollution and waste and bring the industry in line with international standards on sustainability, like the Paris Agreement of 2015.
The core tenet of the full white paper is that sustainable development shouldn't be seen as merely an altruistic aspiration. The move towards circularity constitutes a solid business case for competitive medtech companies, with organizations like Phillips, which announced its aspirations to generate 25 percent of sales from circular products, services and solutions by 2025, as the example.
The goal is to have a green economy which offers innovative employment opportunities, improved wellbeing, equal resource use and access for all generations, in the present as well as in the future.
Transforming the medtech sector to a circular economy model
The medtech sector needs to change course in order to address the exponentially increasing environmental challenges. One way could be to transform the industry model to a circular economy (CE) model, with specialized help from innovative startups. For this reason, the CE model can be seen as a specific case study for exploring sustainable options in the pharmaceutical industry.
It is possible to view CE as a model to highlight the necessity of implementing more sustainable solutions into the pharmaceutical industry. Sustainable solutions based on CE can help reduce the pollution from the pharmaceutical industry by encouraging the repurposing of old products towards more innovative, environmentally friendly solutions. Additionally, CE creates further value by keeping the resources within the economy, generating revenue earning opportunities for pharmaceutical companies.
Benefits of the circular economy approach
The effectiveness of sustainable solutions and circular economies in reducing environmental impact cannot be understated. Two key examples demonstrate this capability:
One CE approach relevant for the medtech sector is green chemistry, which uses renewable raw materials, eliminates waste and avoids the use of toxic and hazardous reagents and solvents in the manufacturing and application of chemical products. Pharma companies that are practicing green chemistry in their processes show impressive results towards minimizing waste and it has also shown to be cost-efficient because reductions of waste are related with significant cost savings.
Another area in which the effectiveness of sustainable solutions in reducing pollution is "pollution prevention", which is when emphasis is placed on minimizing the leftovers of pharma production rather than finding more efficient ways of processing waste. The production begins with raw materials, and caution should be taken when choosing these materials and the ways to extract them. Pharma companies can additionally increase the products' end-of-life recycling rates by using raw materials in a smarter way or using innovative new materials. By doing that, the companies can additionally reduce their dependence on raw materials and at the same time minimize waste generation. A tangible opportunity for companies could be to focus on recyclable, lightweight packaging consisting of renewable materials.
Movement towards market competitiveness and open innovation
With regard to the healthcare industry, the actions of pharmaceutical companies signify their growing regard for sustainability issues. In recent news, many pharmaceutical companies, including Novo Nordisk, AstraZeneca and Novartis are making company-wide commitments to create sustainable solutions, which can increase intra-industry competitiveness.
Unlike larger and slower companies that tend to lack behind market changes, entrepreneurs can bring new solutions to the market rather quickly. Recently, efforts to reach out to the subject matter expert ecosystem from large companies seem to be increasing, which could potentially help the industry to gain desperately needed agility in order to facilitate a new, more sustainable pharma landscape. However, it is not enough only to focus on simply making the products more sustainable. It is crucial to integrate innovative procedures in all parts of the process from design, production and use to end-of-life.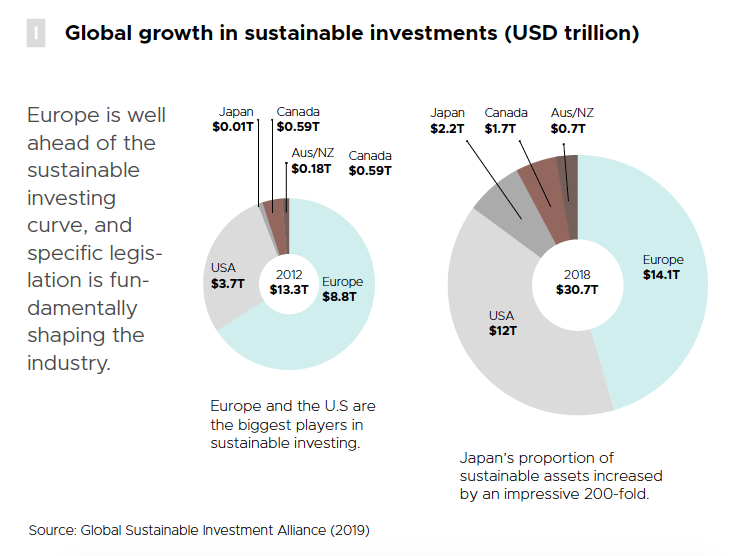 The traditional approach to innovation is closed innovation. In this approach, the ideas are created internally and then evolved into a concept to manufacture and commercialize through the vertically integrated structures inside the pharma companies. In this way, the pharma companies can protect their intellectual property without the risk of revealing company knowledge and thereby get exploited. This traditional business strategy has guided companies to develop defensive positions against the forces of competition, highlighting the importance of constructing barriers rather than promoting openness.
Open innovation requires a more flexible business model where innovation can be created in collaboration between internal and external ideas, knowledge and expertise. The leveraging of outside scientific expertise during open innovation processes improves the probabilities of big pharma to gain access to breakthrough discoveries. As the rate and the amount of innovation keep accelerating in the many sectors of the industry, it is challenging for the companies to seize all of it.
The Novo Nordisk case study
At Novo Nordisk, building a more sustainable business has been a priority for 20 years. But in 2018, leaders agreed that they could think even bigger than wind farms and carbon offsets. The Circular for Zero initiative aims to reshape and develop more sustainable insulin injector pens.
Globally, 29 million people living with diabetes rely on Novo Nordisk's medicine. Novo Nordisk medicines and injection pens require huge amounts of energy, water and raw materials to produce and distribute – putting them on the frontline of plastic waste and water scarcity. To address this problem, Novo Nordisk teamed up with MATTER and Green Innovation Group to host the 2019-2020 Novo Nordisk Innovation Challenge: a global search for solutions to help Novo Nordisk improve the recyclability and circularity of these pens.
The value of this challenge was identified by an executive from Novo Nordisk: "At Novo Nordisk, we are shaping our business practices to deliver on our clear ambition to have zero environmental impact," said Kenneth Strømdahl, senior vice president for device research and development at Novo Nordisk. "By collaborating with MATTER and Green Innovation Group, we believe we'll find novel solutions that will enable us to reduce our use of resources and to more effectively design our devices for recycling after use."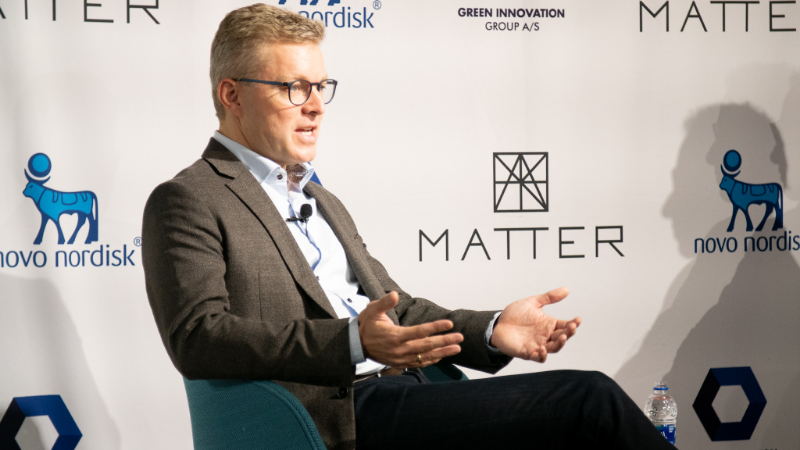 Kenneth Stromdahl, senior vice president, devices & delivery solutions at Novo Nordisk A/S discusses the 2019-2020 Novo Nordisk Innovation Challenge at MATTER in November 2019
Four out of the five participating solutions ended up having pilot projects with Novo Nordisk. The solutions are breaking new ground in the efforts towards a more circular medtech sector.
This collaboration thus serves as a model for how competitive corporates in the field can raise the bar on the sustainability of the industry, while simultaneously strengthening their network of suppliers and the offering towards the market. Ultimately, the Novo Nordisk Innovation Challenge 2019-2020 illustrates how an ambitious incubator and accelerator process facilitates valuable collaboration between an established industry player and the ecosystem of startups. The process saw dozens of relevant startups joining the program which resulted in four of five finalists establishing pilots with Novo Nordisk, following an intense course of product development, prototyping and testing to market criteria. In total, the innovation challenge, when done right, constitutes a key tool in the efforts towards a circular medtech sector.
Conclusion
Although circular economies are not the only lens through which sustainable solutions may be viewed, they are a useful tool for conceptualizing how the healthcare industry might update its technologies and work towards more environmentally-friendly methods of production and sale. Pharmaceutical companies and the healthcare industry at large have a responsibility and a necessity to reduce its environmental footprint.
Download the full white paper The Business Case for a Circular Medtech Sector.
ABOUT THE COLLABORATION
Green Innovation Group A/S is a Danish company with offices in Copenhagen and Lisbon. Green Innovation Group A/S noticed the need for cooperation between municipalities, ministries, foundations, agencies and large companies to find more sustainable alternatives for their organization. They help to accelerate the green transition by matching real needs in the private and public sector with green innovative solutions. The main goal of the initiative is "making green business good business".
SOURCES *Ding, B. 2018. Pharma Industry 4.0: Literature review and research opportunities in sustain-able pharmaceutical supply chains. Process Saf. Environ. Prot. 119, 115–130. **Kane, G.M., Bakker, C.A., Balkenende, A.R. 2018. Towards design strategies for circular medical products. Resources Conserv. Recycl. 38–47.