Report: MATTER startups raised $1.26B since 2015, saw 64% more revenue in 2019
An overview of our community's major moments as MATTER enters its sixth year
A lot can happen in five years.
On February 13, 2015, MATTER's doors opened for the first time with a handful of corporate partners and startup companies, a few programs and a thesis: that collaboration between entrepreneurs and industry leaders is the fastest, most effective way to accelerate innovation, advance care and improve lives.
We're spending this week looking back on the stories and insights that prove that thesis — from helping stakeholders across healthcare see old problems in new ways, to leading discussions that explore the applications of emerging technologies. Today, we're commemorating all we've accomplished together with a by-the-numbers look into the last five years at MATTER.
A big thank you to the MATTER staff members who worked to crunch five years of numbers and to the community members who sat down with us to share reflections and kind words — and a special thanks to MATTER's marketing manager Liz Kennedy, who helped conceive and build this report, and who designed the infographic you're about to enjoy.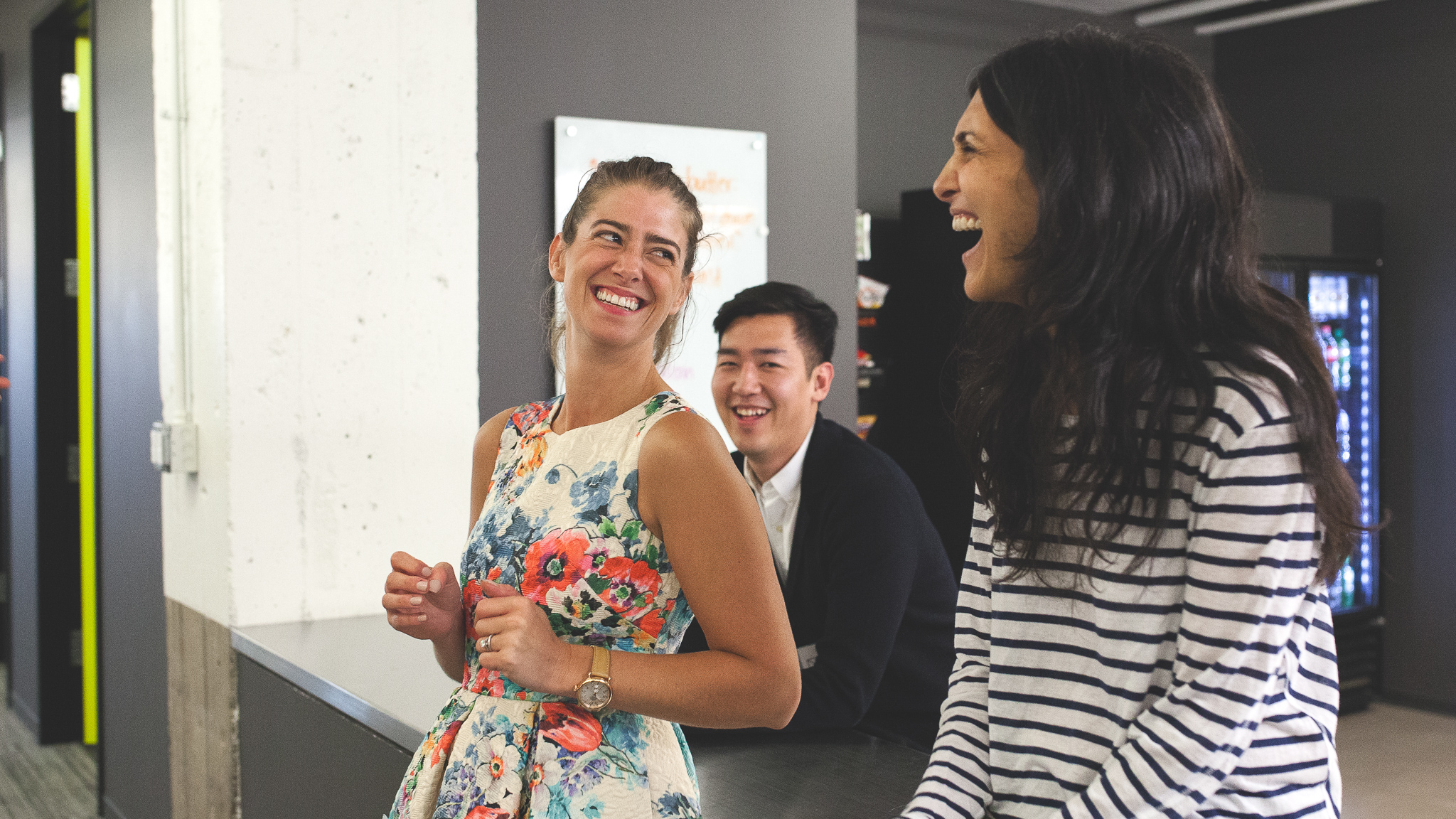 A global community
The MATTER network includes hundreds of startup and growth stage companies and dozens of healthcare organizations from around the world.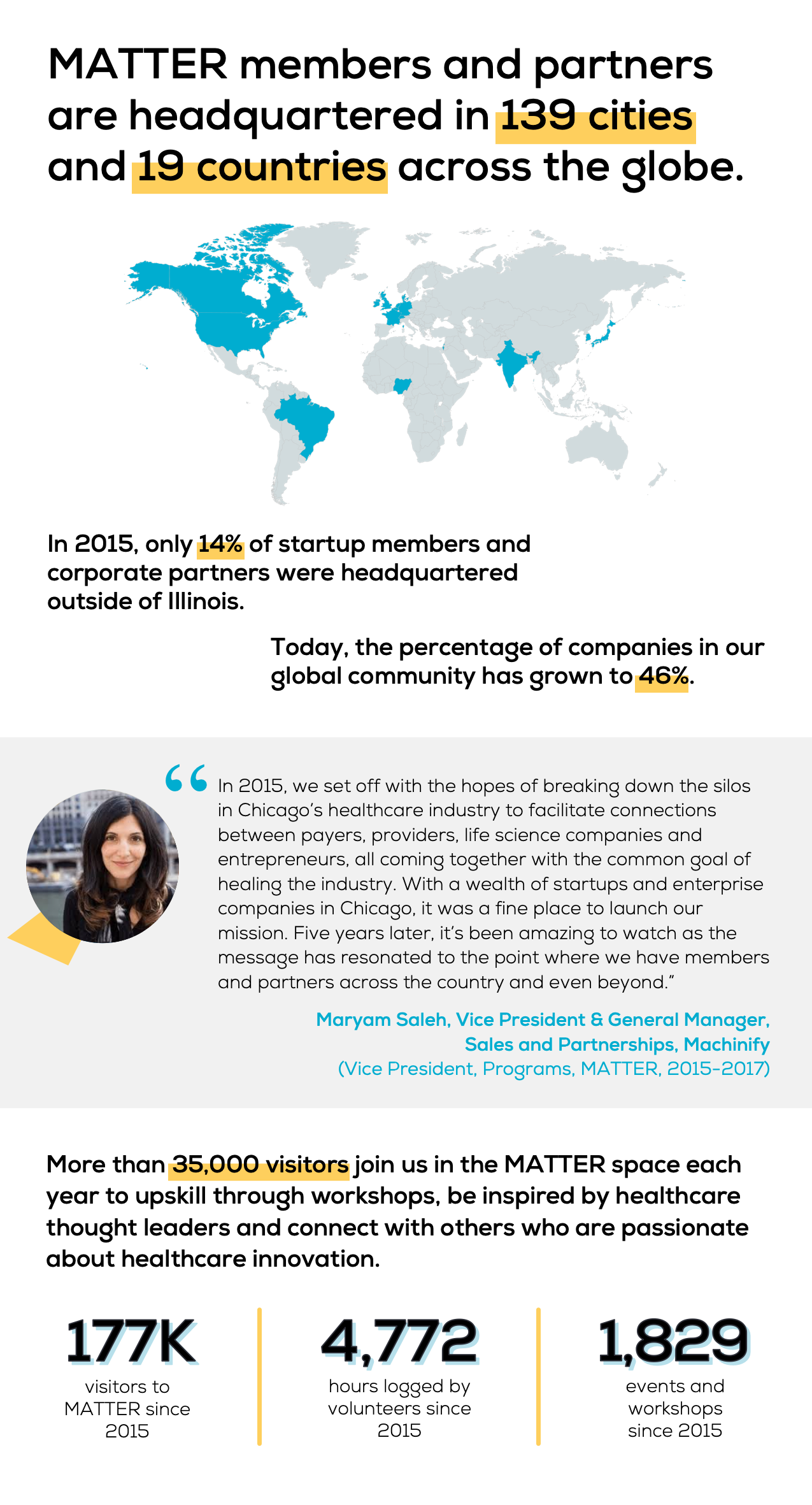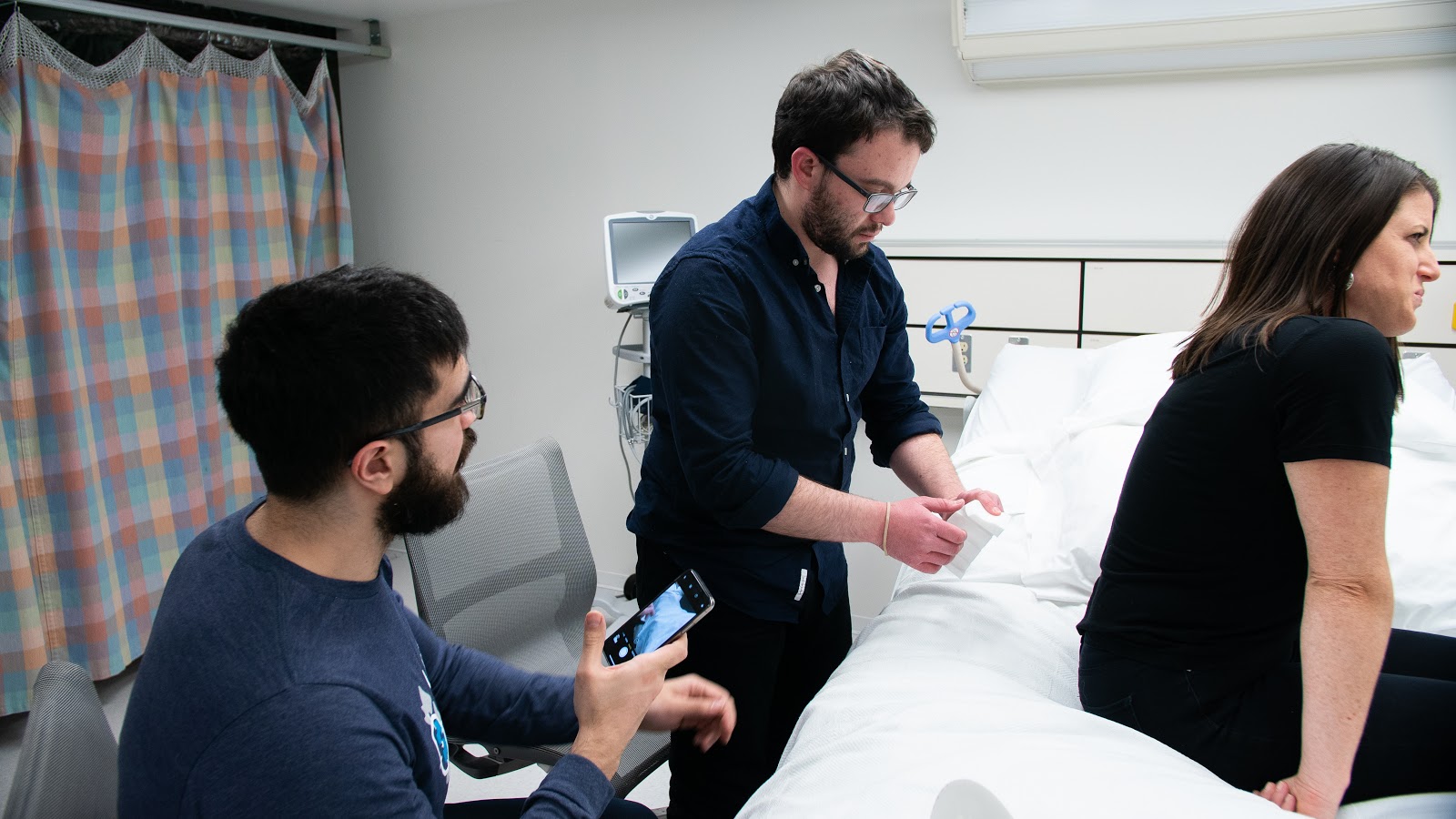 High impact startups
MATTER's startup members are transforming the healthcare experience for people across the entire care continuum — from patients, to caregivers and family members, to physicians.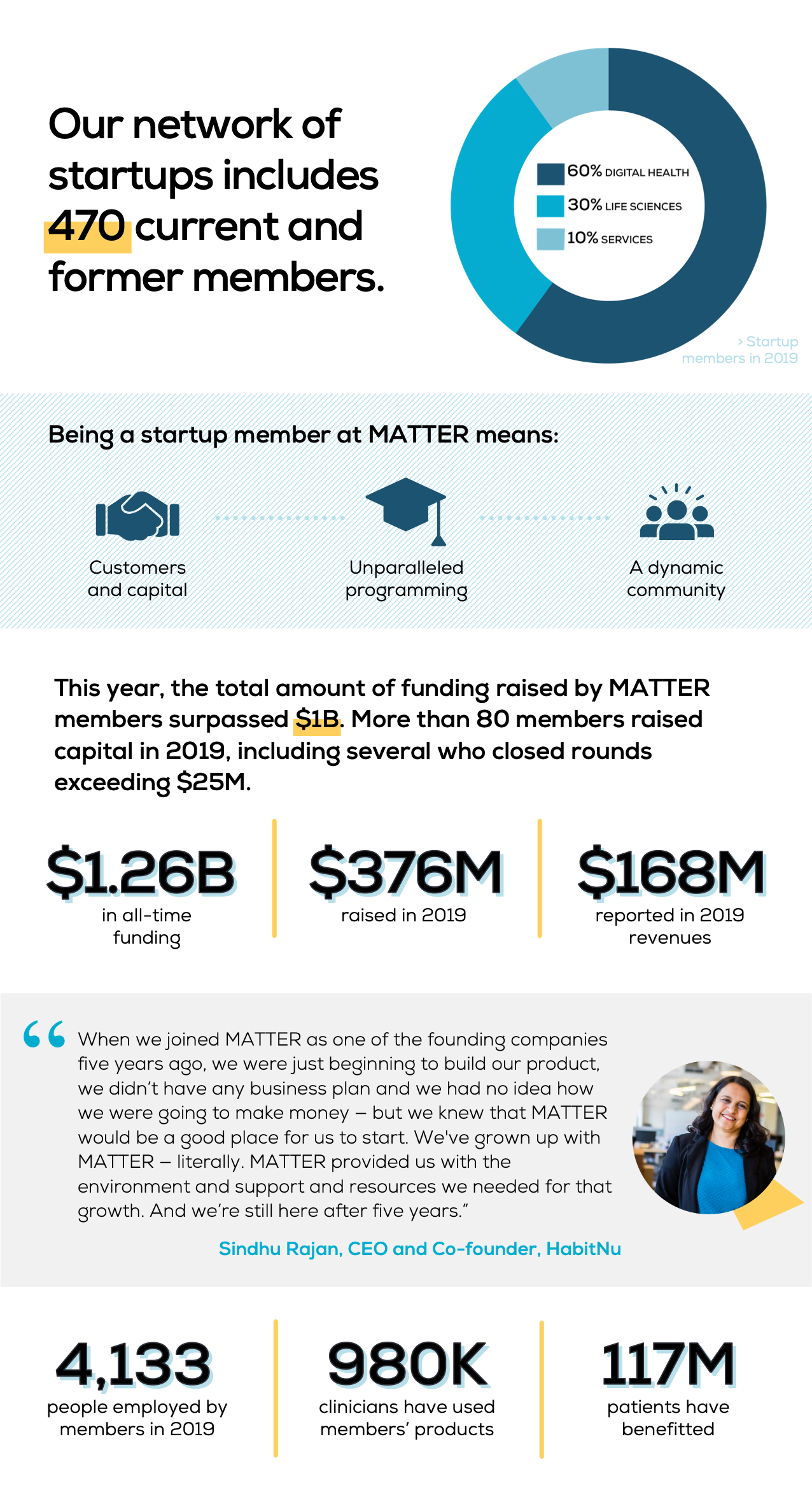 Industry leading organizations
Our partners collaborate with other pioneering organizations from across the healthcare industry, gain access to the most promising innovations in healthcare and learn how to innovate better.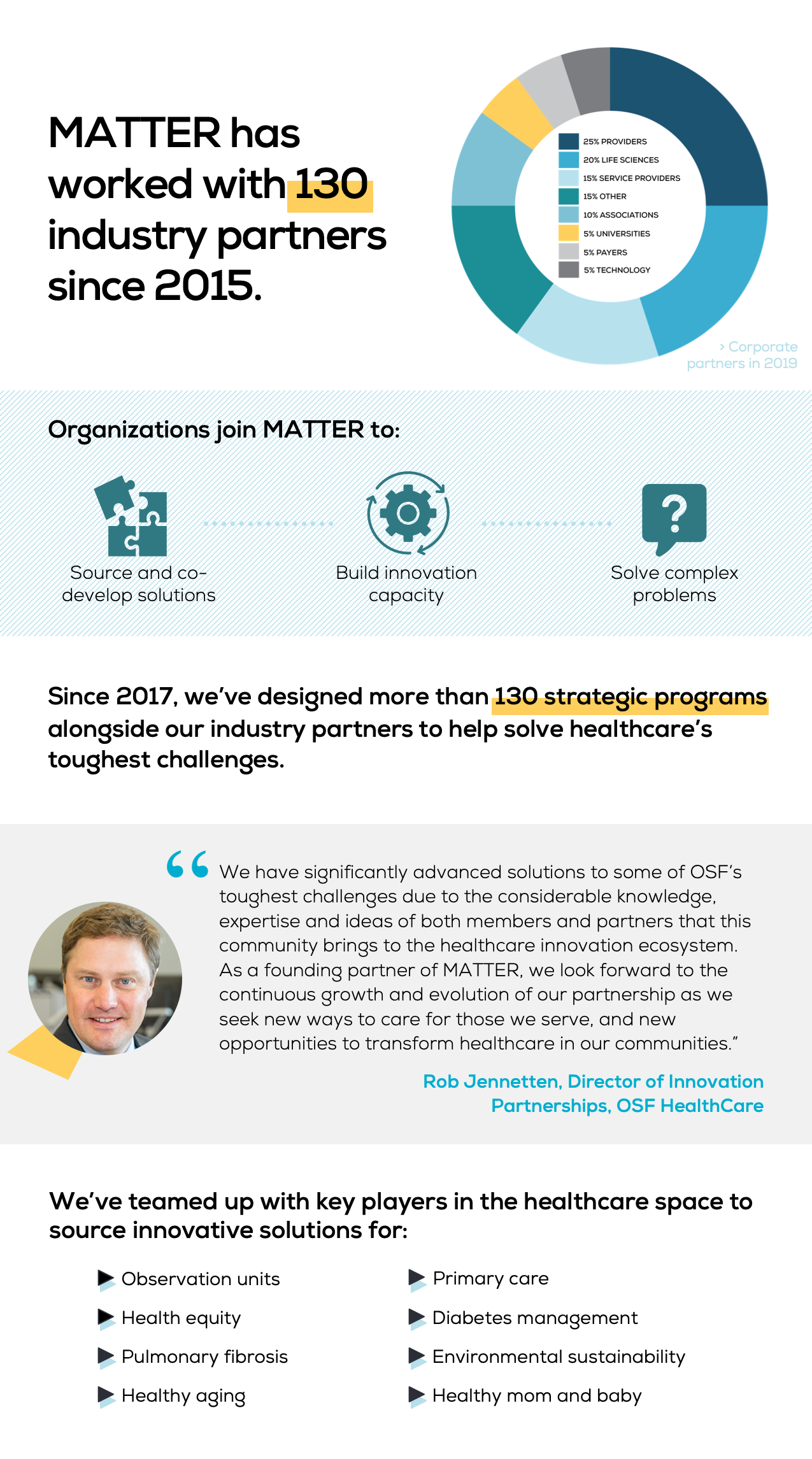 Our mission:
To help people and organizations transform ideas into solutions that improve the healthcare experience.

Whether you're a physician, startup founder, corporate innovator, volunteer, student or aspiring entrepreneur, you've played a crucial part in making our mission a reality.
Together, we're doing something that matters.
See the full infographic here.
Want to read more about how we're commemorating five years at MATTER?