#storiesthatmatter: New horizons for women's health
For the next installation of Stories That Matter, we drew inspiration from innovators in our community who spend every day in pursuit of a healthier future for the mothers, sisters and daughters of the world.
In commemoration of International Women's Day, we're kicking off this women's health series by spotlighting the story of a MATTER startup founder and pelvic health advocate — and the "why" behind the work she does. Throughout the year, we'll add to this collection with other perspectives that shed new light on opportunities to improve women's health.
Missy Lavender, CEO of Below Your Belt
One in three adult women will develop a pelvic health disorder in their lifetime. Missy has spent the last 16 years supporting women and girls in pelvic health education to help them achieve the best possible health outcomes — a mission that started with her own journey.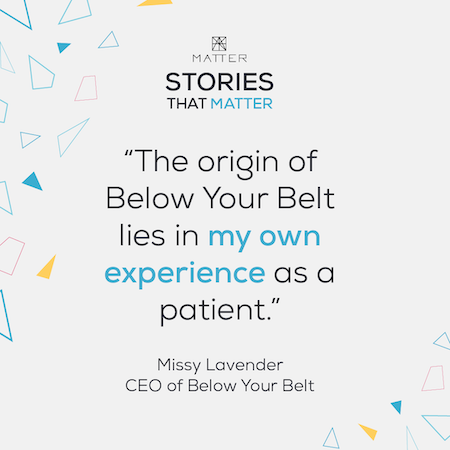 In Missy's words: "The origin of Below Your Belt lies in my own experience as a patient.
"Almost 20 years ago I had a beautiful baby boy, who was very big, and I was an older mom. So, I ended up, within 6 weeks, very luckily making a phone call to a friend of mine who was a psychiatrist, begging her to help me with an antidepressant — because my body was completely out of control.
"These things that I now know are very common after pregnancy — losing urine, chronic pelvic pain, sex being uncomfortable — were what I was living with on a daily basis."
Watch the video from our 2018 conversation with Missy here.
Since we recorded this story, Below Your Belt has conducted hundreds of interviews with pelvic health providers, including gynecologists, urologists and urogynecologists. They found that many providers do not have the time or resources needed to provide basic education or comfort severely anxious patients who continually failed to follow their prescribed treatment plans. Based on these findings, the company's digital health tool now helps specialty pelvic health providers increase patient adherence by engaging and educating patients about their conditions, anatomy and care pathways.
This year, we're on a mission to tell the boots-on-the-ground stories of healthcare. Learn more about Stories That Matter.